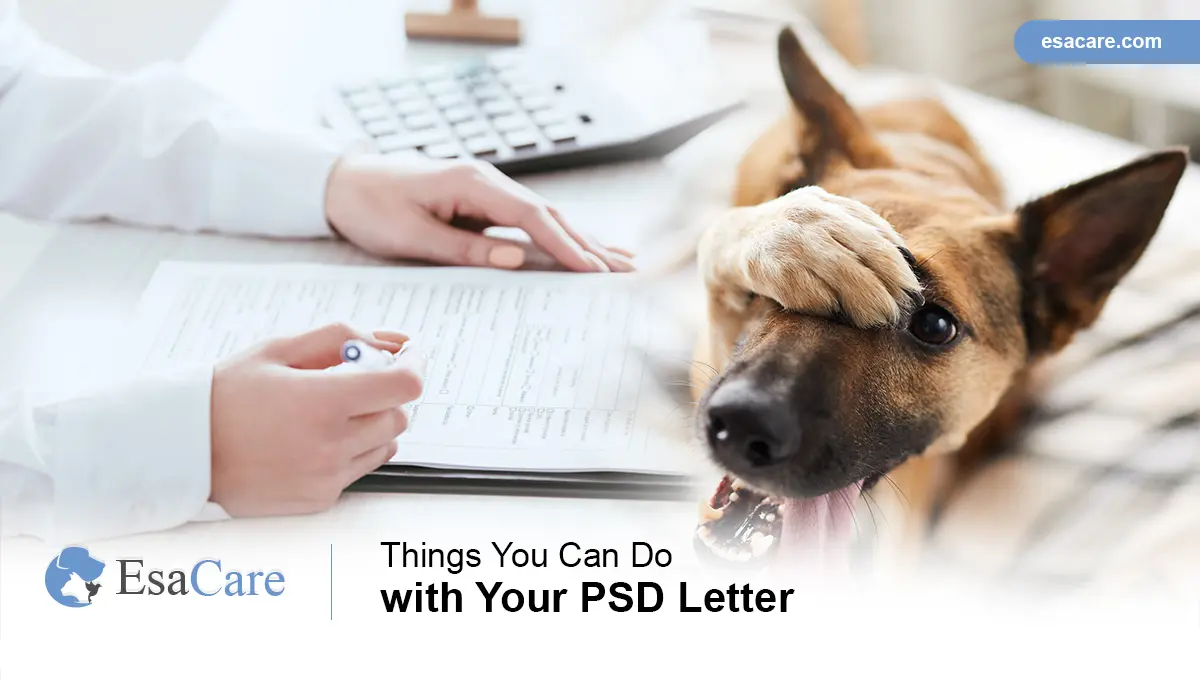 Psychiatric service dogs provide crucial assistance to people with mental disabilities. But they also come with challenges. For example, even though the ADA laws say you can take a service dog anywhere, this may not always be easy.
You're bound to encounter premises that don't welcome dogs. Some landlords may deny you entry to a building simply because they see you with a dog.
Looking for a PSD Letter for your dog? Click the button below!
You should always be ready to defend yourself in case of such circumstances. And the easiest way to do that is to prove that your dog is a service dog. That's where a letter for psychiatric service dogs comes in.
So, what is a psychiatric service dog letter, and what can you do with it? Here's what you need to know.
What is a PSD Letter
Only people with mental disabilities can use a psychiatric service dog. However, claiming your dog is a service dog when you don't have a disability is a federal crime. So if you're not sure whether your condition qualifies for a service dog, it's better to get tested by a mental health professional.
A PSD letter can only be issued by a licensed healthcare professional. Before giving the letter, the health care provider has to test you to determine whether you have a mental disorder. If you do, you'll receive a PSD letter. This document confirms that you have a mental disability.
Once you get a psychiatric service dog prescription letter, you're free to own a psychiatric service dog. But this letter does not confirm that you have a trained service dog. That means you have to make different plans for service dog training.
Psychiatric Service Dog Letter Template
A therapist can write you either a general PSD letter or a specific one. A general-use letter is applicable in any case. But a specific one applies in particular cases only, such as housing or workplace accommodation. Your therapist can tailor the letter to apply to different areas depending on your needs.
A complete should have a letterhead of your psychiatrist, date of issue, issuer's name, handler's name, license details of the therapist, signature, and the letter's message.   
You don't have to worry about others knowing about your mental concerns since a PSD letter does not indicate the specific illness you're having. Instead, it's a general statement showing that you have a life-limiting disability and that having a service dog can help with your disability.  
Even though getting a PSD letter is not a legal requirement, having one makes it easier for you to go to public places.
Below are some reasons why a PSD letter might be necessary.    
What Can You Do with a PSD Letter
Due to an increase in fake service dogs, sometimes people may doubt the legitimacy of your dog. Dressing your dog in a vest does not make your dog a service dog. Unfortunately, neither does it convince everyone that the dog is a service dog.
Besides, the way a dog behaves in public says a lot. It's easy to tell the difference between a trained dog and an untrained dog based on behavior alone. So if you've not trained your dog well, you may be confronted in public if the dog misbehaves.
Let's look at a few circumstances where that may happen.
When your dog misbehaves in public, such as barking a few times or pulling on the leash

When it's not clear what tasks your dog performs

When others doubt your mental disability 

Ignorance by some people on the ADA laws
Keep in mind that a mental disability is not something others can see. So service dog handlers with mental disabilities are more likely to be discriminated against than those with physical disabilities. Also, if you have social phobia or anxiety, a public confrontation can make things worse for you.
But with a psychiatric service dog letter from a doctor, you can avoid confrontation. Once you show the letter, it will clear any doubts about your dog. And you'll have peace of mind knowing that you have a defense in case of confrontation.
You can use a PSD letter for your dog in any place where you may face discrimination. These include hotels, airports, schools, rental apartments, hospitals, shops, and many other areas.
If anyone sues you for violating a no-pet policy, you can provide your PSD letter as evidence in court. The letter protects you against various lawsuits you may encounter involving your dog.
PSDs can help you to deal with PTSD. Click the button below to get your PSD letter.
Your Rights Under ADA
If unclear whether your dog is a service dog or not, a public official is allowed by ADA to ask two questions only.
1) Whether the dog is a service animal required for a disability.
2) What task you have trained the dog to perform.
Asking more questions is an infringement of privacy rights and a violation of ADA laws.
If you have a mental condition and think a psychiatric service dog can help you, get a mental health professional to assess you. If you have a qualifying disability, contact a psychiatric service dog letter.
Testing is essential, especially if you have anxiety and depression, since symptoms may not show. In addition, such a plan helps you prove that you haven't broken any federal law by owning a fake service dog.
If you'd like assistance getting a PSD letter for your dog, let ESA Care help you out. We have licensed and experienced mental health professionals to assess your condition and issue you the letter. Our online services are quick and accessible to all. Reach out to us to start the process.
At ESACare, we can help you get an ESA letter. We can also help you get a PSD letter for your service dog.