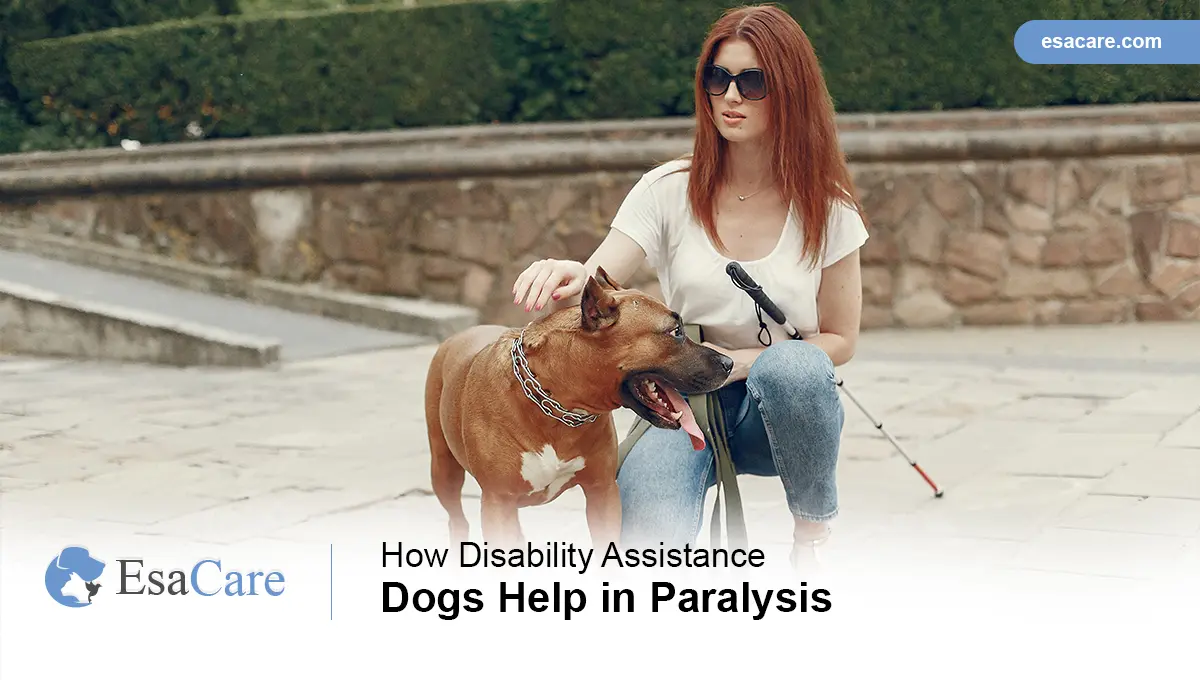 About 1 in 50 people in the U.S live with paralysis. The leading causes of this health concern are stroke, multiple sclerosis, and spinal cord injury. But, mainly, a person with paralysis can walk and perform tasks requiring physical movement.     
That's where mobility assistance dogs come in. These dogs do not just help such people move around freely, but they also create a bond that eliminates loneliness. Most users of disability assistance dogs would agree that service dogs are critical to their lives and contribute significantly to their wellbeing.
Conditions PSD Animal Treats with their Presence –  Click the button below!
How do service dogs help paralyzed people deal with physical disabilities? First, let's explore the essential duties mobility assistance dogs perform. 
1. Disabilities That a Service Dog Can Help With
Service dogs for people with disabilities come in different kinds. Generally, disability assistance dogs can help with mental and physical disabilities. Physical disabilities may result from injury to the brain or other parts of the body.
Some of the causes of physical disability include:
Epilepsy

Seizure

Muscular dystrophy

Arthritis

Cerebral palsy
People with seizures may not know when they're about to have a seizure attack. But you can train service dogs to tell when an attack is about to happen. These furry animals can alert the person 30 minutes before an impending seizure. And if a seizure attack occurs, the dog helps by retrieving the medicine or calling someone to help. A service dog for panic disorder will also fulfill similar tasks.
2. How Can Disability Assistance Dogs Help a Paralyzed Person
Disability assistance dogs can save lives for people with periodic paralysis. This condition results when potassium levels in the blood are deficient. Service dogs have advanced smell capabilities that can help determine when potassium levels are low. They provide an early warning when potassium levels start to decrease—meaning you can have enough time to go to a safer place and take your medicine.
A service dog gives you independence which makes life easier for everyone. For instance, a dog never gets tired of collecting items that fall on the floor. Now, if a person picks those items every time they fall, that might be overwhelming for them. While in public, you don't have to ask for help from strangers. You can feel much safer and have more freedom in public, provided you have your dog.
If you have problems walking, mobility assistance dogs can support you. These dogs have a handle on the back which you can hold on to for balance.   
In addition to physical support, a service dog can help you emotionally. You spend more time with the dog. So a friendship develops, leading to an emotional connection. If you have depression alongside a physical disability, it's a win-win for you. If you're considering getting a service dog for balance and depression, here's what you need to know.  
PSDs can help you to deal with PTSD. Click the button below to get your PSD letter.
3. How to Get a Service Dog for Panic Disorder and Depression
The temperament matters more than the breed when it comes to service dogs. All dog breeds have the potential to be Medical assistance dogs. But if you need a dog to pull your wheelchair, you might need a big dog, such as the Golden Retriever or Labrador.
Disability assistance dogs require professional training. Several organizations, such as Assistance Dogs International, provide profit and non-profit training programs. However, not everyone can train a service dog to smell low potassium in the blood. So, do your research carefully before selecting a trainer.
The consequences of poor training can be dire. Imagine a dog barking at people in public and failing to give you a critical warning on an impending attack. It could be dangerous. An easily distracted dog can even make you fall. So the importance of proper training can't be overemphasized.   
Although professional training can be costly, it can save a life once complete. But you can also do some of the training yourself.
Let's say you want to train your dog to retrieve your medicine. First, you must ensure you keep your medication in the same place all the time. A lower drawer is ideal since the dog can reach it easily. Then, you have to use specific words that the dog will associate with the task you're training. You can use words that make sense to you, and the dog will learn to associate them with particular tasks. 
4. Your Responsibility Towards the Service Dog
Owning a service dog comes with responsibility. The ADA puts it clearly that the handler is responsible for the service dog. You're in charge of caring for the animal, especially when in public. Unlike ordinary pets, service dogs are working animals, which cost more to train. So taking care of the dog is critical if you want to continue benefiting from the dog.
Before getting a service dog, weigh the pros and cons. Consider not just what you need from the dog but what the dog needs from you as well. You're in charge of feeding, grooming, medicating, and cleaning after the dog.
When you think about it, the benefits of a services dog are worth the cost and the extra responsibilities. With disability assistance dogs, you have the independence to go to places you would otherwise be unable to go. As a result, life becomes easier for you and your people.
Life can become even more relaxed if you can access all public facilities without inconveniences. Keep in mind that service dogs are allowed to access all public facilities. But sometimes, it may not be easy. For example, when others see your dog, they may mistake them for pets.  
Get a PSD letter today to enjoy the perks of having your psychiatric service dog close to you!
Conclusion
So, it always helps to have something to prove your dog's identity. At ESA Care, we help individuals with disabilities get PSD letters. These letters confirm that you have a disability that qualifies for a service dog. If you need a PSD or an ESA letter.
Connect with us to book an appointment with our licensed medical professionals, So they can assist you.