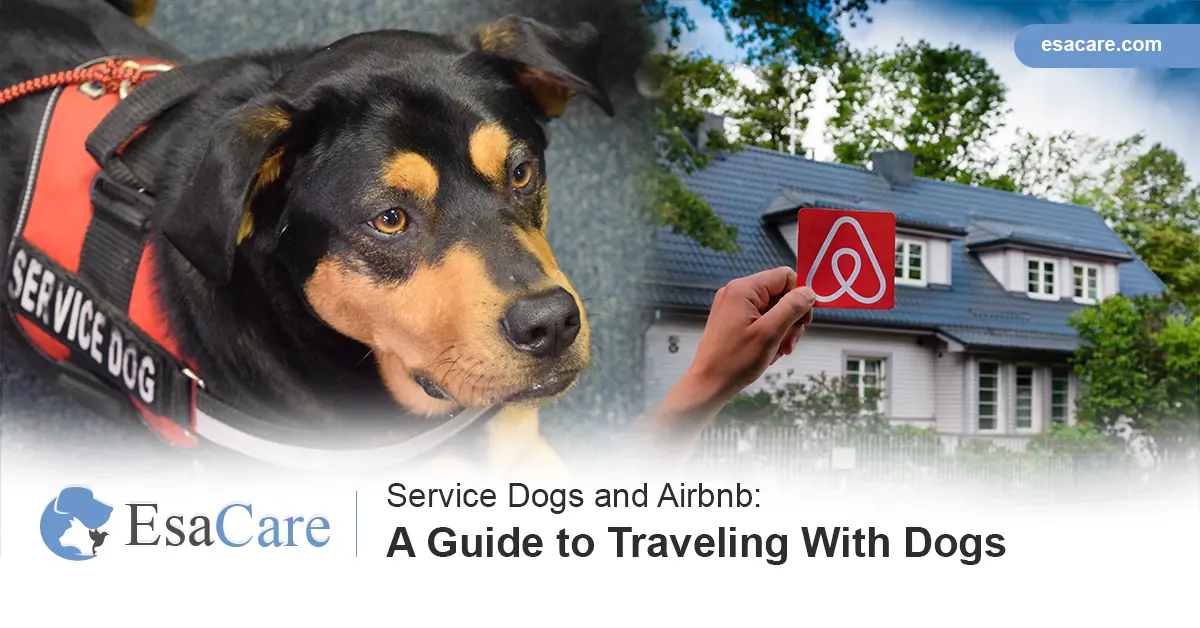 Airbnbs are increasing in popularity by the day as more travelers choose them over hotel rooms. Airbnbs offer a wide selection of properties, from single rooms and apartments to yachts and villas. Airbnbs also provide kitchen access, so you eat healthy while slashing dining expenses. Additionally, you're sure of clean clothes throughout your travel, thanks to Airbnb's laundry facilities. But despite all the benefits, travelers often wonder if Airbnbs allow pets. With pet owners carrying their animals to malls, restaurants, and hotel rooms, there's an increasing demand for pet-friendly facilities. So, is Airbnb Pet Friendly?
Looking for an ESA Letter for your dog? Click the button below!
Assistance Animals According to Airbnb
Hosts don't need to accommodate pets. You can read the house rules on a listing's description to know whether they allow dogs. You could also contact the host directly to learn their feelings about pets on their premises. However, Assistance animals differ from pets. Airbnb divides assistance animals into two.
The first category is emotional support animals. Although they're not trained for specific tasks, emotional support animals offer companionship to patients struggling with mental illnesses. The second category is service animals. Service dogs at Airbnb are trained for particular tasks since their owners cannot perform them due to intellectual, emotional, or physical disabilities.
Some duties of service dogs at Airbnb include:
Helping the blind or people with low vision to navigate

Pulling wheelchairs

Notifying deaf individuals of the presence of sounds and people

Notifying owners of allergens

Getting the telephone and medication

Preventing impulsive behaviors among people with neurological and psychiatric disorders

Providing physical support to people with mobility problems

Helping owners during seizures

Offering non-violent protection
Grounds for Denying Entry to Service Dogs
As a host, you may ask, "Do I have to allow a service dog in my Airbnb?" In most cases, a host cannot reject service dogs at Airbnb. However, certain situations warrant the dismissal of service dogs at Airbnb. The first one is health hazards. Hosts can deny entry to service dogs at Airbnb if they or other household members are allergic to animals. However, Airbnb won't just take your word for it; you need medical proof for your allergy to reject service dogs at your property.
Even then, proven allergies still aren't enough to bar service dogs at Airbnb. Service animals can stay if your living quarters are separate from the guest and support animal. You can also deny entry if service dogs at Airbnb don't get along with your animals. Again, hosts can eject service dogs from Airbnb if they aren't housebroken. An Airbnb service dog can also leave the premises if it's uncontrollable and the owner isn't handling the situation. However, the owner is still welcome to stay without their support dog.
Documentation for Service Dogs
No service dog rule Airbnb requires guests to show documentation or reveal they have assistance animals. The U.S. law doesn't even require you to list your service dog. If guests say they'll bring a service animal, hosts can ask:
If the visitor has a disability (but not the specific disability)

About specific tasks your service dog performs
ESAs can help you to deal with PTSD. Click the button below to get your ESA letter.
Having a service animal doesn't warrant extra fees. However, in the event of damages, costs should equal what you would normally incur without service dogs at Airbnb.
Note that the rules for dogs at Airbnb differ with the jurisdiction. For example, Airbnbs outside the U.S. may prohibit assistance animals. Therefore, you can ask if service dogs are allowed in Airbnb before traveling overseas with your assistance animal.
Nondiscrimination Policy
There's no pet policy in Airbnb. However, Airbnb regulates guest and host conduct with its nondiscrimination policy. The goal is to create an inclusive community where hosts and visitors feel respected. Even so, the community's success depends on transparent communication between premise owners and guests. For instance, guests can talk about accessibility features, their needs, and the requirements of their service dogs at Airbnb.
Airbnb strives to make guests as comfortable in their travels as they are at home, and accommodating service dogs at Airbnb is integral to that. Besides providing safety, service dogs at Airbnb allow their owners to explore the world freely. Therefore, the nondiscrimination policy pushes two main agendas, namely:
Inclusion: Airbnb doesn't tolerate discrimination based on religion, race, and country of origin. The company strives to do more than the law's minimum stipulations.
Respect: Airbnb acknowledges the diversity of laws and norms around the world. As such, the company expects its hosts and visitors to remain respectful in their engagements, even if the other person's views differ from what they believe in. The idea is to appreciate common human values and undermine prejudice arising from misinformation and misunderstanding.
Making Service Dogs at Airbnb More Comfortable
Creating an animal-friendly Airbnb could benefit your business. First off, it increases your customer reach. With only about 5% of Aibnbs being animal-friendly, allowing pets could raise your facility's popularity and land you more bookings. Accommodating service dogs at Airbnb also enhances the guest experience. Visitors are more likely to recommend your property and leave positive reviews if they have service dogs at Airbnb.
There are several ways to make your premises animal-friendly. The first one is installing pet-friendly fabrics. For example, microfiber and canvas don't attract fur or stains. You can also buy slipcovers that are removable and washable. This goes hand in hand with providing extra sheets in the event of pet messes. Finally, don't forget to show your guests where to keep dirty linen when they remove it.
Similarly, invest in easy-to-clean surfaces. For example, you can install wood or tile floors instead of carpets that absorb urine and leave odors. Guests will also appreciate water and food bowls to feed their service dogs at Airbnb. Likewise, keep brooms, dustpans, mops, and disposable bags within reach for easy cleaning. You can also recommend dog parks, veterinarians, and pet stores to your guest if they want to explore the area.
Conditions ESA Pet Treats with their Presence –  Click the button below!
Guests With Service Dogs at Airbnb No Longer Have to Worry
Hopefully, your question about whether Airbnb allows service dogs is satisfactorily answered. But even though Airbnb provides service dogs, you need the necessary documentation for stress-free travel with your furry friend. At EsaCare, we provide ESA letters to prevent breed restrictions and save you unfair airline charges and pet deposits.
So traveling with your service dog doesn't have to be hectic. Get an ESA letter today!