We know how it works, we just don't know how to cure it. Mysterious pneumonia-like illness, beginning in China city, has already traveled far beyond the Chinese border. First detected on December 31 of 2019, the novel coronavirus has already infected tens of thousands of people and killed more than 7,000 people globally.
Don't wait anymore – Get your ESA letter in a few easy steps!
According to the WHO, Coronaviruses (CoV) are a large family of viruses that cause illness ranging from the common cold to more severe diseases such as Middle East Respiratory Syndrome (MERS-CoV) and Severe Acute Respiratory Syndrome (SARS-CoV). Coronavirus disease (COVID-19) is a new strain that was discovered in 2019 and has not been previously identified in humans. It appears to be highly transmissible, and since cases are mild, the disease may be more widespread than current numbers suggest. There have been reports of people transmitting the virus before they show symptoms, but most experts think it is not a major driver of new infections.
Map: Tracking The Spread Of The Coronavirus In The U.S.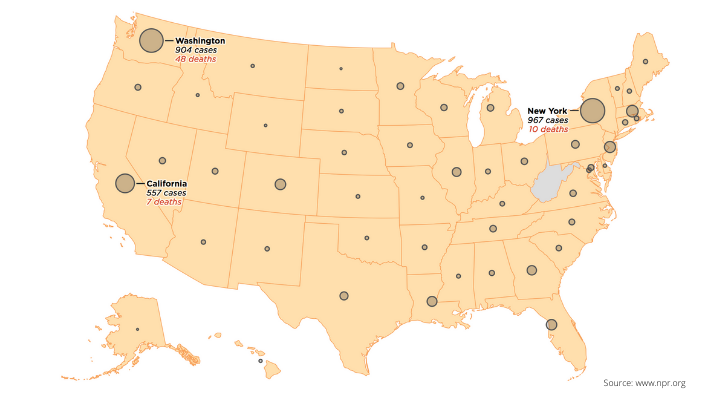 At ESA Care, we are committed to providing our clients with the best support possible during this uncertain time. Given the ever-changing situation surrounding COVID-19, we want to keep you and your family safe, healthy and informed. So, let us answer the most common questions most of you are probably very concerned about.
Are animals the source of coronavirus?
The new coronavirus, officially known as SARS CoV-2, likely germinated in an animal, probably a bat, but it is not yet clear how it evolved to infect a human, says the World Small Animal Veterinary Association. A study found that the bat coronavirus shared 96% of its genetic material with the virus that causes COVID-19. Bats could have passed the virus to humans, but there are key differences between the RBD sites in the two viruses. This suggests that this specific bat coronavirus did not directly infect people, but could have been transmitted to people through an intermediate host, say researchers.
Can my pet get coronavirus?
Dogs can contract certain types of coronaviruses, such as the canine respiratory coronavirus, but this specific novel coronavirus, aka COVID-19, is believed to not be a threat to dogs. The threat that COVID-19 could sicken pets and spread between them and their owners is extremely low, veterinarians say. However, one dog in China contracted a "low-level infection" from its owner, who has a confirmed case of COVID-19, meaning dogs may be vulnerable to picking up the virus from people, according to The South China Morning Post.
Your ESA pet can be a great companion during a mental breakdown – Click the button below.
Can my pet give coronavirus?
COVID-19 is most commonly passed from person to person through coughing and sneezing. The virus can live on surfaces for up to 24 hours, depending on the type of material, so the virus can be present on a dog or cat even if they can't contract the illness themselves. PDSA advises pet owners to follow standard good hygiene practices, such as regularly washing their hands thoroughly with soap and hot water, especially after handling or feeding a pet and avoiding letting pets lick their faces. As of March 2020, no animals in the United States have been identified with the virus, says the CDC.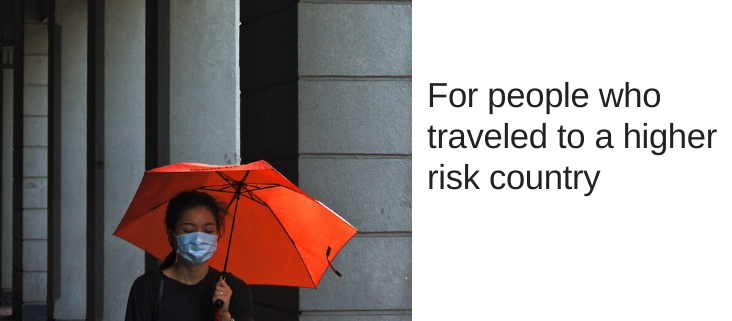 There are certain countries the CDC advised against visiting (like China, Iran, Italy, and more), as well as cities in the U.S. that have been affected by COVID-19. Visiting one of these countries or cities could potentially expose a person to dangerous germs and might even lead to infection. If you've been in a higher risk city or country in the last 14 days or you've been exposed to COVID-19 and develop a fever and symptoms, such as cough or difficulty breathing, you should:
self-isolate from others for at least 14 days
monitor yourself for symptoms
call your healthcare provider for medical advice in case you feel unwell or are experiencing unusual symptoms
tell the doctor where you have traveled recently
reveal to the doctor whether you have been in contact with a confirmed case of COVID-19.
If you have such symptoms as shortness of breath, cough, sore throat, it is important that you don't go to work, or any other public areas, and do not use public transport or ride-sharing services.
Map: Confirmed Cases Of COVID-19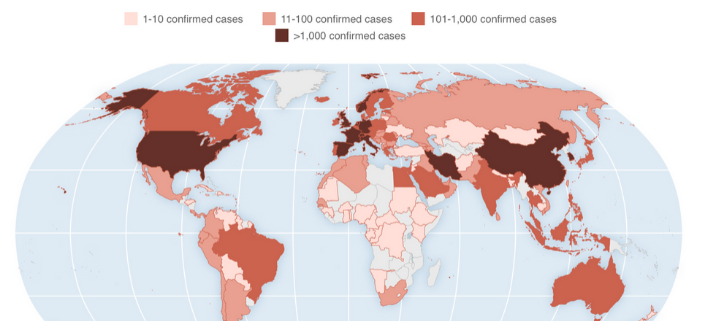 What if I live in an area where there are COVID-19 cases?
If you are at higher risk, it is extra important for you to take actions to reduce the risk:
keep space between yourself and others
limit close contact and wash your hands often
avoid crowds as much as possible.
avoid non-essential travel
stay home as much as possible to further reduce your risk of being exposed
continue to follow your usual routine of pet care, but remember to wash your hands before and after touching your pet, or someone else's pet.
I'm self-isolating as advised, can my pet stay with me?
We understand that having your pet around can make a huge difference to your mental health, and a period of isolation can be frustrating for everyone concerned. There is no need for pets to stay somewhere else during this time, but you need to take precautionary measures:
make sure you thoroughly wash your hands before and after touching your pet, their food or other pet-related items, or when disposing of their waste
avoid kissing your pet or letting your pet lick you, especially your face
don't share food with them
follow all other NHS self-isolation guidelines.
Stay mentally fit with your ESA pet! – Click the button below.
What should I do if I have confirmed or suspected coronavirus disease (COVID-19)
If you've been diagnosed with COVID-19 or suspected to have COVID-19 because you have been exposed to someone with the virus, follow the steps below to prevent the disease from spreading:
restrict activities outside your home until you have sought medical care
separate yourself from other people and animals in your home
call your healthcare provider and tell them that you have or may have COVID-19
wear a facemask when you are around other people (e.g. sharing a room or vehicle) or pets and before you enter a healthcare provider's office
avoid sharing personal household items
ask someone to take care of your pet until you get well
If you have a fever with cough or shortness of breath but have not been exposed to someone with COVID-19 and have not tested positive for COVID-19, you should stay home away from others until 72 hours after the fever is gone and you get better.

The best way to protect yourself is to practice good hygiene by:
making sure to clean your hands thoroughly for at least 20 seconds with soap and water, or an alcohol-based hand rub
avoid touching your eyes, nose, and mouth
cover your nose and mouth when coughing and sneezing with a tissue or a flexed elbow
avoid close contact with anyone with cold or flu-like symptoms
clean and disinfect frequently touched objects and surfaces.
Pay attention that face masks are not recommended for the general population. It makes sense to wear a surgical face mask when an infected or potentially infectious person stays in the same room with another person or pet.  If you need to seek medical care you had better wear a face/respiratory mask as well.
What can I do for my pet and myself during the coronavirus pandemic?
If you don't have alarming symptoms of the disease, you and your furry one can lead your regular lifestyle. Rather than walking your pet in public places, it's better for you to choose some quiet space near your home to go for a walk. When staying at home, keep your room well-aired.
Spend more time with your beloved pet — talk to it, snuggle, or just quietly relax in its presence. Bonding with your pet like this can make a big difference to your mood — you'll feel more relaxed and focused. Your pet will also feel quieter if you give them attention and companionship.
What can I do to relieve stress?
Given the global outbreak of the coronavirus, stress and uncertainty have become a part of the lives of many people these days. Living in a world that feels increasingly out of control may be quite damaging to mental health. That's why it's essential to learn how to manage this level of anxiety and properly deal with news alerts.
Here are the actions you can take right now:
Rather than struggling with flashes of frustration or anxiety, it's better to just accept them.
Remember the 90-second rule — an emotional reaction to something lasts for only 90 seconds. After those 90 seconds have passed, any remaining emotional response stems from the person choosing, consciously or not, to stay in that emotional cycle.
Do not judge or reflect too much. Instead, acknowledge the feelings, admit how you're feeling and let yourself feel what you feel, but then be willing to let go of it.
Get an authentic ESA letter by clicking the button below!
Last, but not least …
Do not panic. We know how upset you may feel by the news coming from all over the world, but being swept up into a collective panic will not help you manage the anxiety from the current situation with the virus. Rock climbers say it's not the mountain that kills, it's the fear.
Most of the people who feel frustrated about the whole situation may reveal their core fear — it's the fear to lose control over their lives. Anyway, there's something we cannot control. That's why we need to focus on something we can control in this world — our attitude and thinking patterns, our home environment, and how we take care of our body's needs.
Take a deep breath. Wash your hands. Eat more fruits and veggies. Choose food delivery over going to the store. Meditate. Call a friend. Contact a licensed physician and get all your questions regarding COVID-19  answered. Hug your cat. Walk your dog. Listen to your favorite playlist or create a new one. Read something that lifts your spirit. Then wash your hands again.
Let's calm down and not make a difficult situation worse or scarier. History has taught us that humankind can survive difficult times and emerge from them better off. Let's hope this one will be no exception.
Get your Emotional Support Animal Letter today by booking an appointment at ESACare.