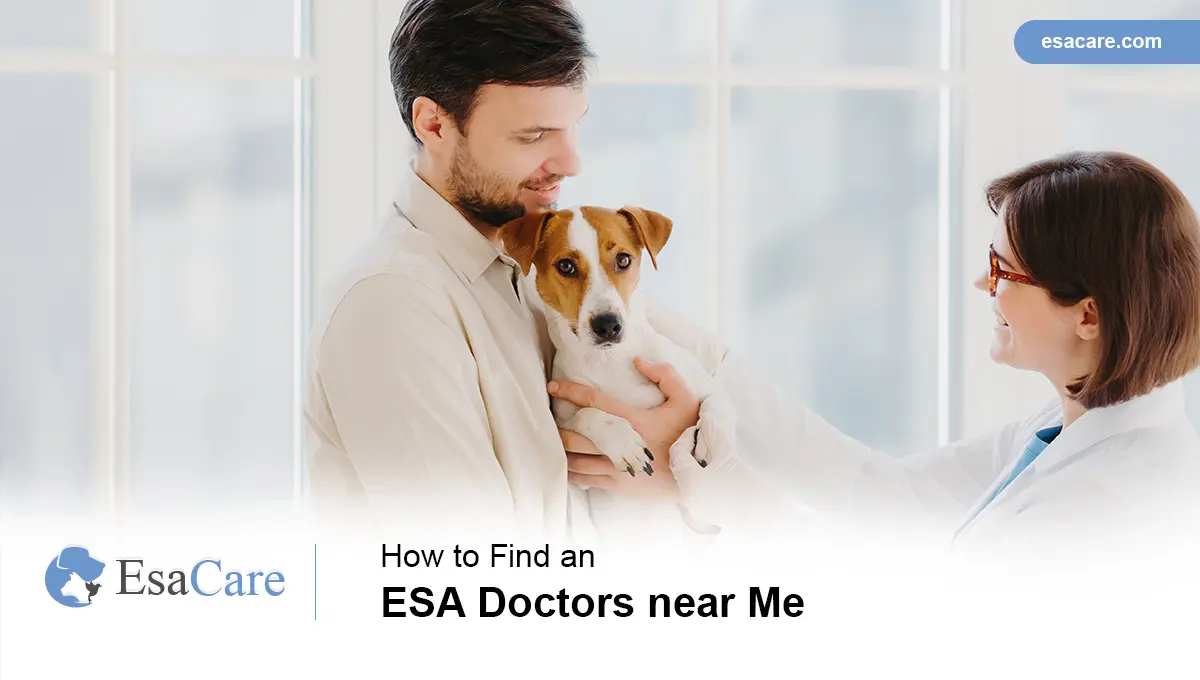 In today's busy world, it is normal to feel overwhelmed, stressed, and even anxious. However, if these emotions persist for days or even months, it is advisable to seek help. It could be a sign of a mental or emotional illness such as anxiety, post-traumatic stress disorder (PTSD), depression, or bipolar disorder.
Get an authentic ESA letter by clicking the button below!
If you have any of these illnesses, it is advisable to work with licensed health professionals that develop a treatment plan that best suits you. Many professionals are turning to natural and healthy treatment plans; hence, many recommend animal therapy involving emotional support animals (ESA).
These animals provide companionship, love, and comfort, which are essential parts of the road to wellness. The use of ESAs has particularly proven to yield great results when used in conjunction with medication, therapy, and holistic treatments.
Continue reading to find out everything you need to know about ESA therapists and how to find "ESA doctors near me."
Who Are ESA Doctors?
Emotional Support Animals are domesticated pets such as cats and dogs that provide emotional comfort to their owners. On the other hand, ESA doctors are licensed mental health professionals that recommend these animals to patients suffering from mental or emotional disorders. Its mission is to help people access licensed mental health professionals.
They act as a bridge between you, the client, and licensed mental health professionals, who then write you an ESA letter. Thus, ESA doctors help you get access to the mental support you deserve. Besides, they act as advocates who provide information that protects you and your emotional support animal against pet travel fees, discrimination, security deposits, and increased rent.
What Doctor Can Prescribe an ESA?
For your ESA letter to be legally binding, you must obtain it only from qualified professionals. However, according to the federal rules and guidelines from the U.S. Department of Housing, various healthcare professionals can recommend an ESA. 
Additionally, your family doctor can write you an ESA provided that they are licensed. In simple terms, any physician can prescribe an emotional support animal as long as they are licensed.
Any ESA prescription from an unlicensed doctor will not be recognized as valid. It could also cause you to lose credibility with the housing provider, making finding suitable accommodation challenging.
How Do You Tell Your Doctor You Want an ESA?
As discussed earlier, having an emotional support animal is very important for you if you have a mental illness. Informing the "ESA doctors near me", that you have been walking through your mental wellness journey that you want an ESA should be easy. However, you may find it difficult due to fear of rejection and judgment. 
While "ESA doctors near me" may reject your request, it can't hurt to raise a potential solution that may help with your condition. Also, it would help if you didn't fear judgment from your doctor. Talking to your doctor about your mental illness should be no different than talking to them about a headache or a stomachache.
If you have been wondering how to ask the doctor for an emotional support animal, here are tips that you can use;
Schedule an appointment with your healthcare provider

Explain to your doctor your need for an ESA

Describe to them how your pet eases the symptoms of your disorder
The information "ESA doctors near me" will enable them to decide whether you need an ESA. Please do not get upset if your doctor or therapist isn't willing to write you a letter. Enquire why they won't write the letter. Probably they will suggest better ways of dealing with your illness. 
What is an ESA Letter?
An ESA doctor letter, also known as an ESA evaluation letter, is an official document issued by a licensed mental health professional (LMHP). It certifies that your animal is necessary for your emotional support as part of your mental illness treatment. This letter allows you as a mental illness patient to live with your emotional support animal in freedom without harassment from landlords, HOAs, or even co-ops.
An ESA letter must align with your state laws since the laws differ from one state to another. 
Are Online ESA Letters Legit?
The world is moving toward internet-based solutions for activities that we used to carry out in person; health-related services are no exception. For example, it has recently become easy to find therapist services online, leading to more people turning to web-based consultations to address their mental health needs.
According to the current U.S Housing department guidelines, ESA letters obtained through healthcare professionals who provide services to their patients over the internet are approved and legal. Simply put, you can get an ESA letter online if it's through a licensed healthcare professional that works remotely. In fact, according to the new HUD guidelines, an ESA letter from an online therapist or doctor is just as good as one obtained during an in-person office visit.
Don't wait anymore – Get your ESA letter in a few easy steps!
Bottom Line
It's no secret; Mental and emotional disorders can be frustrating and confusing. However, having an emotional support animal recommended by "ESA doctors near me" is among the best available therapies. 
Please understand the points discussed above before reaching out to "ESA doctors near me,". They will help you know ESA better and make a better decision when choosing an "ESA doctor near me" to walk you through your mental wellness journey.
If you're ready to stop searching for "ESA doctors near me", then you've come to the right place. We, Esacare are here to help you connect with licensed "ESA doctors near me" who will not only offer you an ESA letter but also assist you to get the help you need immediately.
Get your Emotional Support Animal Letter today by booking an appointment at ESACare.