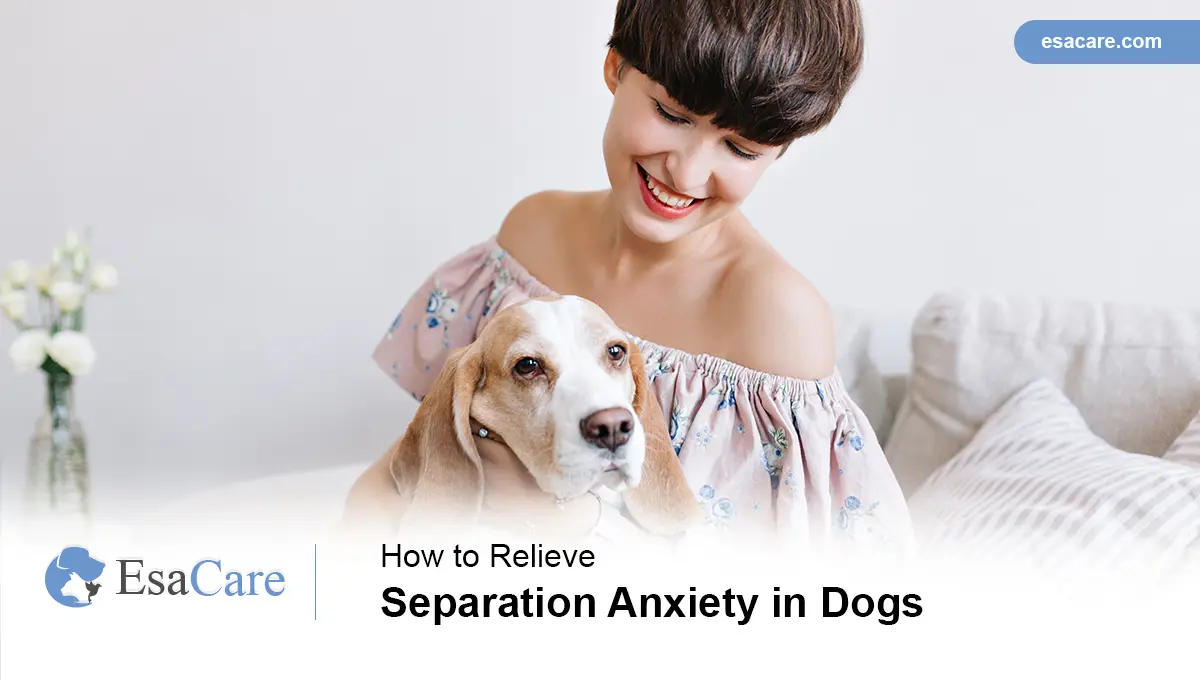 Man's best friend is a term frequently used to describe a dog's faithfulness and close relations with humans. However, in some instances, a pet dog may become super-attached to its keepers leading to extreme anxiety when left alone. Experts refer to this condition as separation anxiety in dogs. 
Click the button below to get your ESAcare letter today and keep your pet close!
Take into account that anxiety can affect puppies and adult dogs as well. As a responsible dog owner, you should do anything possible to keep your loyal friends happy and free from stress. Below are proven recommendations on how to handle separation anxiety issues of your friends. 
Which Dog Breeds have the Worst Separation Anxiety?
Researchers claim that some dog species suffer more from separation anxiety than others. However, most analyses rarely point out valid triggers to the condition although, some theorize the situation to genetic makeup. In a recent survey, investigations indicate that at least 70% of pet dogs display anxiety-like traits. 
Keep in mind that anxiety behaviors tend to worsen as a dog gets older. You can detect anxiety in older dogs by their increased sensitivity to noise and heights. Note that these indicators sometimes signify a case of CDS (cognitive dysfunction syndrome) in aging dogs. Here, the animal's sense of awareness, perception, and learning gradually decline due to age. In consequence, they become more confused and anxious compared to younger dogs. 
Still, there are some breeds where puppies and juveniles are more prone to anxiety. Also, compared to sexes, females are more likely to exhibit fear and anxiety than males. At times, some species suffer most from separation anxiety in dogs at night. In other terms, the dogs become extremely distressed immediately when darkness strikes. 
For a more enjoyable relationship with your furry friend, settling for less panicky breeds is critical. On top of the most anxious dog list, we have the lovely Labradors. Although Labs are very social and have pleasant personalities, they struggle most with nervousness when left alone. 
Other victims include:
Jack Russell Terriers

German Shepherds

Border Collies

Vizslas

Shetland sheepdogs

Spanish water dogs

Lagotto Romagnolo
In a nutshell, separation anxiety in dogs can impinge on the well-being of your pet. 
Thus, it is prudent for dog owners to improve the living conditions of their pets for minimal stressful episodes. Moreover, breeding experts need to work extra harder to develop less nervous species.
How Long Does Separation Anxiety in Dogs Last?
Often, separation anxiety in dogs makes them whine, bark, howl, or pace around excessively. Sometimes they may dig holes, scratch windows or chew things in the house. Also, you can detect excess salivation or drool. Even if a healthy dog may display these mannerisms, an affected one does them more often. 
Surprisingly, some dogs may instantly become calm when the owner steps back. Unfortunately, this change of behavior can complicate the entire diagnosis and treatment process. It is worth pointing out getting your dog out of the habit takes numerous weeks and sometimes months. 
The thumb rule is to first consult a competent vet for intensive investigation on interrelated health conditions. Sometimes, separation anxiety in dogs can signify a previous accident in the house or unsuccessful housebreaking. On rare occasions, some separation anxiety in dog's medications can make them extra edgy. 
Before starting your dog on any treatment program, mention to a vet whether the symptoms became visible after the onset of drugs or not. That way, it becomes less complicated for medics to diagnose and treat anxiety in older dogs and puppies too successfully.
Keep your ESA pet legally – Click the button below!
How Do you Train a Dog with Separation Anxiety?
When using prescribed separation anxiety in dogs medication, you can incorporate other remedies like time training for better results. The secret is to remain consistent and spend considerable time training them on proper behavior when you leave. Here are quick tips you should consider.
Practice leaving your puppies alone from an early age. You can start by putting them in a crate or a particular corner for a few minutes. Gradually extend the duration to several hours as your pet becomes calmer.
Reward your dog with a treat like a stuffed toy every time you step out. Then, take it away once you come back. This helps in keeping your animal friend occupied and less lonely in your absentia.
Make your goings and comings less dramatic and with minimal fuss. By using this technique, your family dog may not become excessively emotional when you leave.
Leave worn clothes with your scent in the vicinity. The tactic helps in keeping your hairy friend composed even in your absence.
Invest in a good audiobook or play soothing music in the background. Studies indicate that a human voice has a calming effect on stressed dogs.
Can a dog be Cured of Separation Anxiety?
Currently, there are several management programs capable of minimizing separation anxiety in dogs effectively. Nonetheless, an ultimate cure depends on the origin of the problem and the management approach used. 
Take into consideration that some dogs may recover instantly from repeat training. Contrarily, others require long-term medication or lifestyle changes to decrease anxiety. However, there is one common remedy where animal experts recommend keepers to take along their dogs once in a while. 
Unfortunately, a new environment or car travel can also instigate similar symptoms in some dogs. Medics recognize this tendency as travel anxiety in dogs. In such a scenario, you can use proven homeopathic remedies for anxiety in dogs. Some of the most effective therapies include Natrum muriaticum, Aconitum, Argentum nitricum, Lachesis, Nux vomica, and others. 
On the other hand, invest in recommended essential oils for anxiety dogs like lavender to calm them down. Other treatment options consist of regular exercises, mental stimulation therapies, supplements, Acupuncture, massage, and frequent grooming. 
It is easy to get your hands on an ESA letter. Get yours now by clicking the button below.
Final Word
Whether battling anxiety in dogs at night or travel nervousness, it requires a well-thought approach to bring the issue to a halt. After all, nothing is frustrating like a pet dog that creates havoc once you step out of your front door. However, amid the frustration caused by this condition, you can never go wrong with a vetted team of animal experts at EsaCare.
Contact Us at ESACare and book an appointment with us.