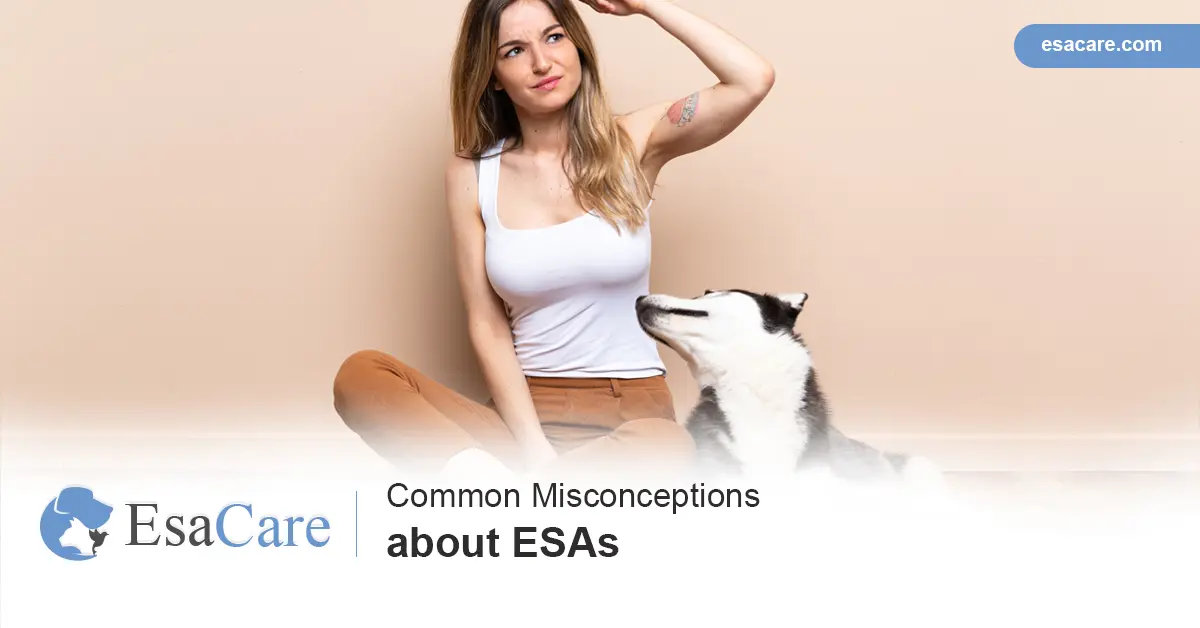 As the stigma surrounding mental health issues fades to the background, more patients are prioritizing self-care. Some mental health patients who can't stump up the fees for regular therapy opt to use emotional support animals (ESAs) to improve their conditions. Although scientific studies have shown that ESAs can help with certain mental disorders, there are still many misconceptions about ESAs. 
Feeling Emotionally Unstable? Keep Your ESA Pet Close – Click the Button Below.

ESAs are Service Animals
Sometimes, it's convenient to put all service animals in one category. The category in which an animal falls depends on the type of service it provides to the owner. Unlike typical service animals are trained to perform specific tasks for their owners, ESAs aren't trained to perform any tasks. They only help those who have psychological and emotional disorders to function in society.
Anyone Can Acquire an ESA
Hypothetically, anyone can own a pet that offers emotional support. However, this doesn't mean that any pet qualifies to be an ESA. For your pet to be considered an ESA, a psychotherapist, psychiatrist, or other licensed mental health practitioners must prove that the animal will provide psychological benefits and emotional support. Likewise, your mental health will get evaluated to determine whether you qualify for an ESA. Thereafter, the mental health professional will issue a letter that legitimizes your ESA.
You Can Take Your ESA Everywhere
Another common misconception about ESAs is that they can accompany their owners everywhere, including non-pet friendly grocery stores and restaurants. Although you can take an ESA with you on flights and live with it in a building that doesn't permit pets, animals won't have extra rights in public areas. This isn't the case with service animals, which can accompany their owners to spaces open to the public, including movie theatres, museums, schools, and restaurants.
Enjoy Traveling with your ESA Pet – Click the Button Below

Although you can fly with any ESA, most airlines permit passengers to only fly with dogs and cats since they are more trainable and easier to manage than other pets. Different laws protect the rights of individuals who need ESAs. Alternatively, the Air Carriers Access Act allows passengers to fly with ESAs, provided they have the appropriate documentation. They can travel with their animals at no extra charge.
You Can't Acquire an ESA Letter Online
It's possible and entirely legal to acquire the ESA letter online. A simple Internet search will lead you to a company that provides online ESA services at an affordable cost. Although regulations surrounding ESA letters' acquisition vary from one state to another, it's legitimate to apply them online.
However, it's best to keep in mind that the letter should only bear a qualified mental health practitioner's signature. Such a letter gives you legal rights to own an emotional support animal besides proving your status as a legitimate ESA owner. In this regard, be wary of sham websites that purport to offer ESA letters since there are so many of them.
ESAs Must Wear Special Vests That Prove Their Status
Regrettably, many ESA owners have been misguided into believing they must buy special vests for the animals and that the vests must be worn whenever the animals are in public places. In reality, this isn't the case because you only need a letter to prove your pet's special status. You can purchase a special outfit for your animal per your wishes, but this isn't obligatory.
Any Animal Can Be an ESA
Although you can choose any animal for this role, your choice will be limited. Here are some key considerations to keep in mind when selecting an ESA:
Get an authentic ESA letter by clicking the button below!

Final Words
Undoubtedly, having an emotional support animal can go a long way in easing symptoms of most mental health conditions. It's best to keep in mind that ESA ownership always invokes absurd misconceptions, which we've fortunately addressed.
If you're ready to use an emotional support animal, do not hesitate to contact ESA Care. Schedule an online appointment with our therapists to check whether you qualify for a furry companion.
Book an Appointment by clicking the banner below.