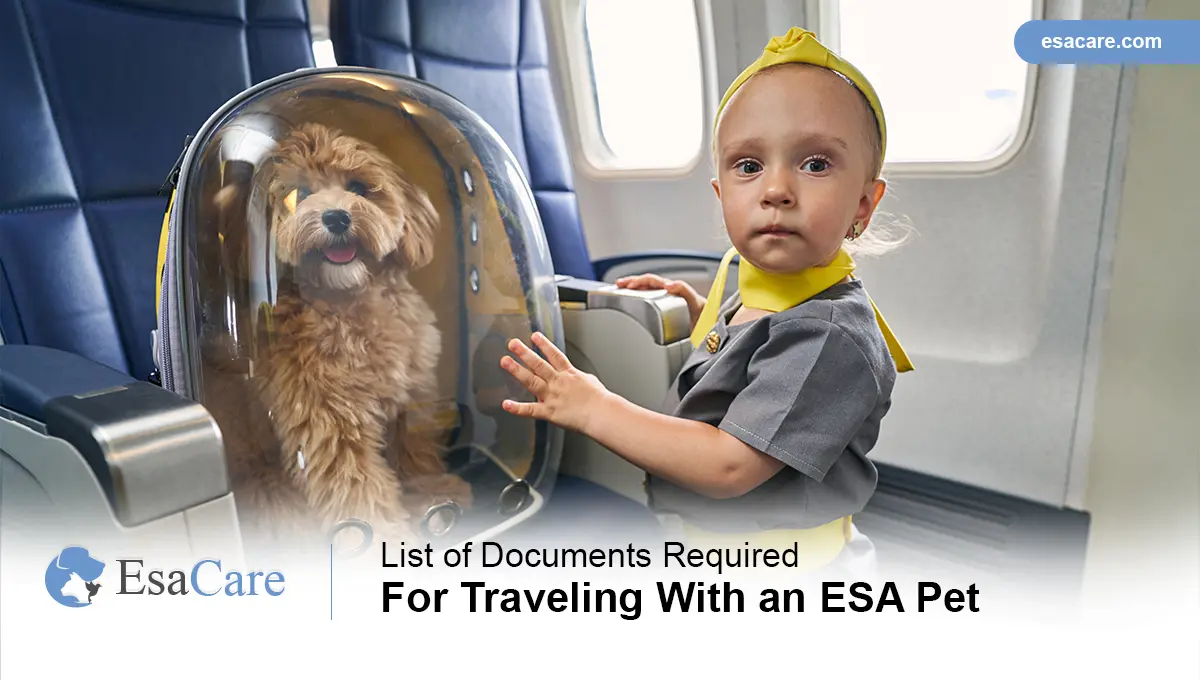 After the implementation of new rules by the Department of Transportation (DOT) in 2021, flying with your emotional support animal (ESA) isn't as easy as it used to be. So, when traveling with your ESA, you need to plan ahead of time. Several federal and state legislations are in place to make it easier for patients to live and travel with emotional support animals on a plane. These assistance animals have legal protections that allow them to reside with their owners in no-pet housing (The Fair Housing Act) and travel on commercial airlines (Air Carrier Access). 
Your ESA pet can improve your lifestyle – Click the button below.
The Air Career Act (ACCA) was enacted to make it easier for people to fly with their emotional support animals inside the cabin with no extra charges if the passenger has a valid emotional support animal letter (ESA letter).  
There's much more to know about the pet travel documentation when traveling with your emotional support animal than just an ESA letter. Read more to understand the requirements for bringing along an ESA on board or flight. 
1. What Documents Do You Need To Fly With an Emotional Support Dog?
There's a lot to prepare for when flying nationally or internationally with a dog or any other pet. You need to submit pet travel documents for review and pre-approval through the airline's portal at least five days before your flight. 
You'll also need to bring printed copies of these documents with you to the airport while traveling with your pet.
ESA travel letter
The ESA travel letter is a formal declaration that must be dated no earlier than 365 days before the flight's initial scheduled departure date and usually includes the following statements:
The passenger has a mental or emotional health-related disability listed in the Diagnostic and Statistical Manual of Mental Disorders (DSM); the note does not need to specify the nature of the disability.

The animal's presence is required for their mental health, treatment, or assistance with their disability during the flight or upon arrival.

The person conducting the evaluation is a licensed mental health professional, and the passenger is under their professional care.

The type and data of the mental health professional's license, as well as the state or other jurisdiction in which it was issued.
The Vet Form
This form is completed by the animal's primary care provider and informs the airline of the animal's breed/size and whether vaccinations are up to date. Like the medical professional's statement, the vet form must be dated within one year of the initial departure date.
The veterinarian should fill out and sign the following form:
A Veterinary Health Form: This form confirms that the ESA's rabies vaccination is up to date. (Some airlines will accept an official Proof of Vaccination document from your veterinarian as well.) Your veterinarian will fill out the form and return it to you for a fee. It is best to allow at least 7 days for processing, so contact your veterinarian as soon as possible.
Passenger's Guarantee Form
A few carriers require an additional form to be filled out by the passenger. As a result, there are no formal formatting requirements for this statement. However, it should include evidence that the animal has been trained to behave in public, such as behavior school certification and the passenger's full name, signature, phone number, and email address, if applicable.
American Airlines ESA Forms
When traveling to or from the U.S., you have to submit the U.S. DOT Service Animal Air Travel Form and DOT Relief Attestation Form before the flight. In addition, you'll need to contact your airline and complete all required forms for traveling with a service animal. 
The U.S. DOT Service Animal Air Travel Form attests to emotional support animal's health, training, and behavior. 
The DOT Relief Attestation Form is required if you have a flight over 8 hours in your itinerary. It states your animal won't need to relieve itself or do so in a way that doesn't create a health or sanitation issue.
2. How Do You Get Your Dog ESA Certified To Fly?
The ESA letter is the first and the most crucial emotional support animal document for flying with your ESA dog. The ESA letter is the document that certifies your dog to be with you on a flight to provide emotional assistance in case of any emotional turmoil.
You can obtain your ESA letter from a certified health professional only if diagnosed with mental illness/disorder. Consult a licensed health professional and tell them how your dog provides comfort and support when you feel emotionally overwhelmed. Your health care practitioner will advise you and provide you with a letter stating that you must have ESA with you when traveling. 
Get your Emotional Support Animal Letter today by booking an appointment at ESACare.
Eligibility Criteria To Qualify For ESA Letter  
To be eligible for an ESA dog, the handler must have a disability recognized by the Americans with Disabilities Act (ADA) and the Air Carrier Access Act (ACAA). Your disability must be a mental condition that significantly limits one or more major life activities.
Handlers typically use psychiatric service dogs for conditions such as: 
Moderate to severe anxiety

Depression

ADHD

Autism

Phobias

PTSD
Traveling With An ESA Dog:  ESA Laws and Airlines
Flying with an ESA is not as simple as it was once. Because emotional support animals are no longer exempt from other pet policies, as per the new rules of the U.S. Department of Transportation (DOT). According to the new regulations of DOT, airlines are no longer legally required to make accommodations for emotional support animals and can treat them as regular pets. If your dog has an ESA letter, it can still be treated as a regular pet if the airline policies you're traveling with don't allow it.  
You can fly with your ESA dog subject to the airline's policies for normal pets. However,  you'll be subjected to pet fees that can get quite expensive. The alternative way is to fly with your dog as a trained service dog. 
Psychiatric service dogs are frequently used to assist with the same mental health issues that ESA owners face. Still, they are trained to perform tasks related to the owner's disability. Airlines are required to provide free accommodations for service animals or psychiatric service dogs. If certain conditions are met, an ESA can be trained to become a psychiatric service dog.
Don't wait anymore – Get your ESA letter in a few easy steps!
Flying With Emotional Support Dog Questions/Checklist
Besides the ESA letter for air travel, to enjoy a hassle-free journey with your dog, keep in mind the following prerequisites of traveling with an assistance dog.
Check to see if your flight route accepts assistance dogs and if your dog's breed and temperament are suitable for flying.

Check that your dog has all of the necessary

pet travel documents,

vaccinations, treatments, and tests before entering or leaving the U.S. or any other country.  

Inform the special assistance department that you intend to travel with your assistance dog.

Get dog insurance.

Fax copies of all of your assistance dog's paperwork to the Animal Reception Center at your departure airport.

Check that you have submitted all necessary documents before flying and have their copies with you.

Prepare to fly by purchasing a safety harness and an absorbent mat for your dog.
3. How To Prepare The Correct Paperwork For ESA?
The document submission process for ESA varies according to the airline you are traveling with. For instance, most airlines require the documents submitted before 48 hours, whereas others may simply appreciate a heads-up in advance. 
Read more to be well-prepped before traveling with an ESA dog. 
Guidelines To Prepare Your Paperwork
Step 1: Get your ESA letter. Make sure your ESA letter is typed on office or practice letter, is signed by a professional (licensed in the illness for which the diagnosis is made), must include name, title, and license/certification credentials, and shall not be family members or others with a close personal relationship to the individual.
Step 2: Attach your vet form and passenger's guarantee form with your ESA letter.
Step 3: Make sure to submit your Service Animal Air Transportation Form at least 48 hours before flying so you'll be informed in time about approval or disapproval. 
Step 4: Complete the DOT Service Animal Relief Attestation Form if applicable and submit it with the other documentation before the flight.
Step 5: Read all the documents/forms before signing. Also, you can show them to your health professional for pre-approval. 
Step 6: Last but not least, don't forget to keep copies of all documents during your trip.
Drawbacks of Incomplete Documentation
According to the new amendments in the U.S. laws, emotional support animals on a flight can no longer travel free of charge and have obligations, unlike service dogs. So, when traveling with your ESA, make sure you have all the proper documentation with you to avoid any inconvenience. Any missing document can be a reason for ESA refusal by the airline.
4. Restrictions For Emotional Support Animals on The Flight
When traveling with an emotional support animal on an international flight, the passenger must ensure that their pet is fit for public access. The same applies to national flights. According to the Americans with Disabilities Act, your pet is required to be under your control all the time. For example, the animal should not climb on seats or behave obediently and is manageable by you.
Other than these basic guidelines, below are some more points of consideration for flying with a service animal.
ESA Requirements 
Your ESA is required to stay in its carrier while in the terminal or during the flight.

The animal must be harnessed, leashed, or tethered at all times.

Animals under 4 months of age should not travel as service animals.

An individual is limited to 2 service animals.

Airlines may not let an ESA board if it is too large – you should check with your airline to see their rules.

Airlines are proposed to require all disabled passengers traveling with an emotional support animal to check in one hour before the scheduled check-in time. As a condition of traveling with a service animal, the general public must provide time to process the service animal documentation and observe the animal.

 Airlines refuse to transport a service animal if the animal poses a direct threat to the health or safety of others.

Under DOT rules, airlines will not allow snakes, reptiles, ferrets, rodents, sugar gliders, or spiders as ESA.
Traveling with your ESA has never been easier – Experience it through our services.
Wind Up
Emotional support animals are intended to alleviate a passenger's disability through their presence. They are expected to be trained to behave in public, but they are not individually trained to do work or perform tasks for the benefit of a disabled passenger.
So, when traveling with your emotional support animal on the flight, it's best if you are well-prepared for any future mishaps. If you are traveling with a service animal, you should be aware of your rights and limitations both when flying internationally and once you arrive at your destination. Make plans for your service animal in advance, as required documentation and vaccinations for a service animal can take weeks or even months. 
Do you still have any questions? Or are you unsure where to go to get the necessary assistance and a valid ESA letter? ESACare makes it simple and quick to obtain your consultation and letter.
Get your Emotional Support Animal Letter today by booking an appointment at ESACare.