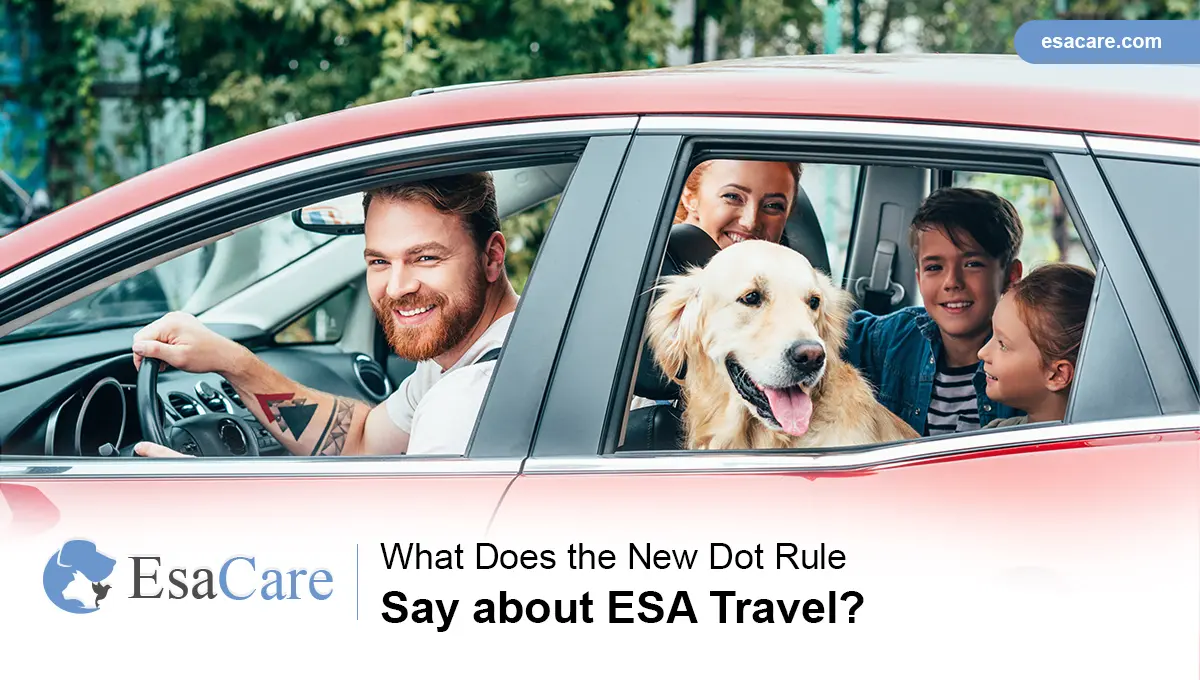 An emotional support animal is not a new concept in the world of mental care. They have been around since the 1970s when persons abled differently were granted rights to bring their emotional support animals into public spaces. This type of therapy helped many people get through some tough times in life.
Therefore, the importance of Emotional Support Animals (ESA) and Service Animals to their owners cannot be overlooked. ESAs are often untrained companions who act as loyal aid to their masters. Service animals are trained to help persons who have physical, mental, or sensory challenges. For example, a dog can be an aid to a person with blindness. In addition, there are specially trained animals that can even detect illnesses such as cancer through sniffing.
Traveling with your ESA has never been easier – Experience it through our services.
Before the enactment of the new ESA travel rules, the definition of service animals included ESAs. Therefore, ESA travel was allowed. You could travel with your pets on a flight, and at no fee. All you needed was an ESA travel letter from a mental health practitioner and a veterinary health form. This position has since changed. To secure an emotional support animal international flight, play by the following rules:
What Does the New Dot Rule Say about ESA Travel?
The new ESA travel rules were informed by public concerns and outcry over mishaps by emotional support animals. This included urination, defecation, conflict with humans and other animals on board. It was also hard to distinguish between service and emotional support animals.
The new DOT rule about ESA travel clearly distinguishes service animals trained to assist the persons abled differently. The rest of the animals are deemed to be ESAs. The new ESA travel rules remove emotional support animals from the definition of service animals and also brings the following changes:
Airlines should consider psychiatric service animals as service animals.

The DOT developed forms that are now required by airlines as proof that your pet is a trained service animal and behaves well enough not to soil the plane.

Your service animal will either hold its poop or relieve itself in a sanitary manner when the flight is long.

That, where you are flying with a large ESA dog, or any service animal, you should submit duly signed DOT forms to the airline at least two days before your ESA travel date.

Where you have a disability and wish to travel with your service animal, you do not necessarily have to check in physically with your airline but can instead do it virtually.

However, as a passenger with disabilities seeking to fly with your service animals, you are also required to submit the DOT forms at the departure gate on the day of your flight.

Airlines are allowed to restrict the number of service animals traveling with you to two.

That airline can now require your service animal or ESA to fit on your lap or under your foot space on the plane.

Airlines can compel you to ensure that your service animal or ESA is always tethered or on a leash whenever you are on the plane or in the airport.

Where your service animal displays aggression and hostility, airlines can refuse to transport it in the best interest of public safety and health.

That airline cannot refuse to transport your service animal or ESA just because of its type of breed.
Do Airlines Verify ESA Letters?
Yes! As ESA travel letters are helpful, airlines do make a point of verifying them. That's why they require a two-day notice before your ESA travel. An ESA letter once issued is only valid for a year. It is compulsory before you can board flights with your furry friend in tow. ESA letters capture the following information:
You have underlying health (mostly psychological disorder), duly recognized by the Manual of Mental Disorders.

That you need the ESA either during the flight or upon touching down.

That a licensed mental health practitioner is in charge of your condition.

The ESA letter should be written with the mental health practitioner's letterhead, indicating the state, date, and type of the practitioner's license.
Airlines now have to verify ESA letters to verify their authenticity and because your ESA is now considered a pet and no longer a service animal or medical tool. This means that even when ESA's have been proven to benefit your health, they will still be deemed as pets. So unless you train your ESA or prove that they can dispense psychiatry, like notifying you of low blood sugar levels, they will most likely miss a spot onboard.  
Can ESA Dogs Fly on Planes?
While flying with emotional support dogs, questions linger; the most asked is whether or not ESA travel still exists. The answer would be yes and no. In the affirmative, ESA dogs can fly on planes if you satisfy the following conditions:
Can your ESA dog discern ailments like cancer, low blood pressure, or sugar levels?

Have you trained your dog as a service animal in strict compliance with the new rules?

Have you duly filled the DOT ESA Travel forms and submitted them to the airline that you intend to use for verification and approval?

Is it a long flight? If so, will your service animal be able to hold it all the way? If not, will your service animal relieve itself in a sanitary manner?

Is the airline convinced that your service animal is not aggressive, hostile, and a potential threat to public safety and health?
When you can answer the above questions regarding your ESA dog in the affirmative, then your ESA dog can fly on planes. However, in the absence of affirmative responses to the questions above, not even an ESA letter can allow your dog to board. It will then be considered a pet that should have been left at home.
Get your ESA certification by clicking the button below.
What Is Required to Fly with an Emotional Support Dog?
As stated before, united emotional support animals do not merit service animals, and you can therefore not fly with them like before. You could also fly with your emotional support dog free of charge. Now, you have to transport them as cargo pets. The cost for transferring your emotional support dog varies depending on its weight and size.
A delta ESA could cost up to $400 both ways. So when your emotional support animal is short of meeting the 'service animal' threshold, here is what you require to tug your furry friend along on board your flight:
Training and accompanying certification as proof of your animal's 'service,' necessitating its presence on board.

Proof that your ESA has psychiatric abilities is well-behaved and not a potential health and safety threat to the public.

DOT service animal forms are duly filled and submitted to the airline two days before the intended ESA travel.

The DOT forms should indicate (in the events of long flights) that your service animal will not, or if it relieves itself, does it in a sanitary manner.
The rules only permit service animals on board and set a new tight muster with an ESA letter. If you want to travel with your emotional support animal free of charge, then consider training it. Once trained, it becomes a service animal that can tug along whenever.
What Exactly Qualifies as a Service Animal or an ESA? What Are the Benefits of Having One?
Emotional support animals and service animals can be anything, like dogs, cats, reptiles, and birds. However, the Department of Transportation, service, and ESA travel, generally only consider dogs as ESA.
Besides the fact that dogs can be trained to fit into human society, the following are some apparent benefits of having an ESA or a service animal:
Alleviating the toll of mental disorders like anxiety, PTSD, depression, and other phobias.

It helps produce dopamine chemicals in the brain – a neurotransmitter scientifically linked with feel-good sensations like happiness, love, and philanthropy.

On curing phobias, the fear of heights or flight is known as aerophobia. It can be relieved by the presence of an ESA or service animal onboard.

The unwavering loyalty, companionship, and friendship between man and dogs cannot be gainsaid. Dogs are actually considered man's best friend.

They supplement and complement other forms of medical therapy when your dog reminds you to take your medication or alerts you when your blood sugar levels decrease.
Carry an authentic ESA letter to travel with your pet – Click the button below.
Takeaway
As mentioned in this article, DOT's new rule on ESA travel has limited the scope of animals traveling with you. Generally, pets aren't allowed on flights, so it must have exceptional abilities for your animal to access the cabin. This will enable you to fly with your furry friend without rendering it a cargo pet.
Additionally, you will need an ESA letter to prove that you need an ESA to accompany you on your flight. If you need an ESA letter, we can help you get one. At ESA Care, we can help you obtain an ESA letter. We have trained professionals who can do a virtual assessment. 
Get your Emotional Support Animal Letter today by booking an appointment at ESACare.