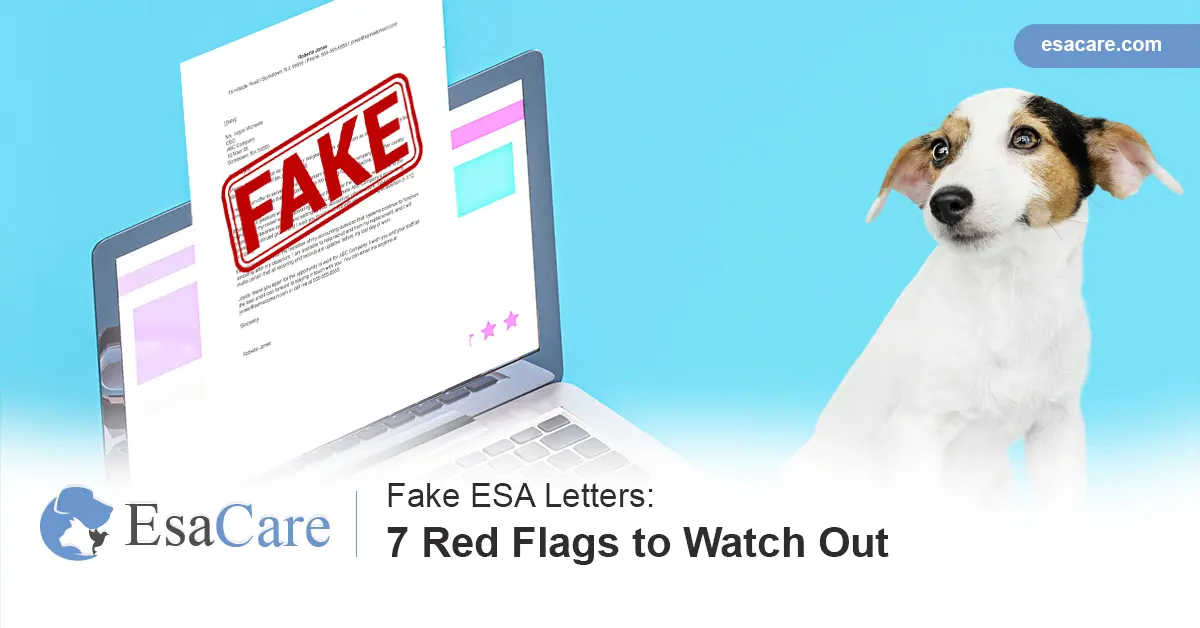 The use of emotional support animals (ESA) is on the rise. These animals are beneficial to individuals who suffer from a mental or emotional disability and thus need support and comfort. To ensure that these individuals get the support that they deserve, state authorities issue ESA letters to them. This allows them to live or travel with the animals without incurring additional expenses.
An ESA can give you relief from mental health issues. Click the button below to get your ESA letter.
You must have a valid ESA letter issued by either a medical doctor or a licensed mental health professional to live or travel with an emotional support animal. In your quest to obtain an ESA letter, you should be wary of websites that purport to offer the same. Fake letters are a waste of money and time, and could also have adverse consequences on your travel plans and living arrangements. Here are seven red flags of fake ESA letters, which you should look out for.
1. The Issuing Professional Isn't Licensed to Practice
It's quite easy to obtain an ESA letter online, and dozens of websites purport to offer this service. However, it would be best to ascertain that the MDs or LMHDs working at these facilities have valid practice certificates. The ESA letter issued to you will be deemed invalid by airlines or landlords if it's written by a professional who isn't licensed to practice. Before purchasing an ESA letter online, seek to ensure that the issuer has a practicing license.
2. The Company Purports to Register Your Pets as ESA
Very few providers of ESA services are reputable. One of the red flags that can help you pinpoint a disreputable company is the services that it offers. If an online service claims that one of its services is to register your pet as an emotional support animal, chances are that it's not genuine. ESA letters are issued for you, rather than your pet. Therefore, be wary of services that ask you to either register your pet or sign up for a registry. The pet doesn't need an ID tag to prove that it's an ESA, but rather, you're the one who needs to produce the letter.
3. Ridiculously Low Charges
Obtaining a legitimate ESA letter is a process since evaluations need to be conducted, which costs money. If you come across a company that claims to provide ESA cheaply, you should tread carefully. These letters don't come cheap, and therefore someone whose charges are ridiculously low is likely to be a fraudster. However, this doesn't mean that you should pay exorbitant fees for the letter. Do your research well to find a company that issues ESA letters at an affordable price.
4. Poor or Lack of Customer Services After Obtaining Your Letter
A reputable company will always contact you after sending an ESA letter to establish whether you need additional help with verification or further clarification with your landlord or airlines. Likewise, when you work with a reputable ESA service, you can always reach their customer support. If the company that issued your letter goes silent on you or fails to respond to your queries, you could be dealing with a scam.
ESAs can help you to deal with anxiety. Click the button below to get your ESA letter.
5. Lack of Screening During the Application Process
All online services promise quick review and approval of your ESA application. However, this doesn't mean that screening should get sidestepped. A company that fails to conduct in-depth screening, or subject you to evaluation with a doctor, is likely to be fraudulent. Your ESA letter can only be valid if you got screened by a licensed doctor. On its part, the service that you choose should thoroughly evaluate you to determine that you have an emotional or mental disability that necessitates an ESA.
6. The Company's Payment Page Isn't Secure
A quick way of spotting a dodgy company that claims to issue ESA letters is by looking at its website's payment page. In case the HTTP address is in green, lacks a padlock, or doesn't have the word "secure," it's undoubtedly insecure. This is also an easy way of checking the website's legitimacy. These are some of the most overlooked red flags, but you should be on the lookout for them.
7. Promises of Quick Turnaround
ESA letters don't get issued discriminately or magically. It's mandatory to get evaluated by a licensed healthcare professional who will assess your condition to determine whether you need an emotional support animal. This takes some time, and therefore, you should be wary of services that promise quick issuance of the letter. Such companies could be out to make a quick buck.
ESAs can help you to deal with PTSD. Click the button below to get your ESA letter.
Conclusion
There are many ways of ascertaining that the ESA service you're dealing with offers valid letters. At ESACare, we provide our clients with legit ESA prescriptions, and the letters that we offer are legal in all states.
Contact Us at ESACare for a valid ESA letter or click the banner below to book your appointment.