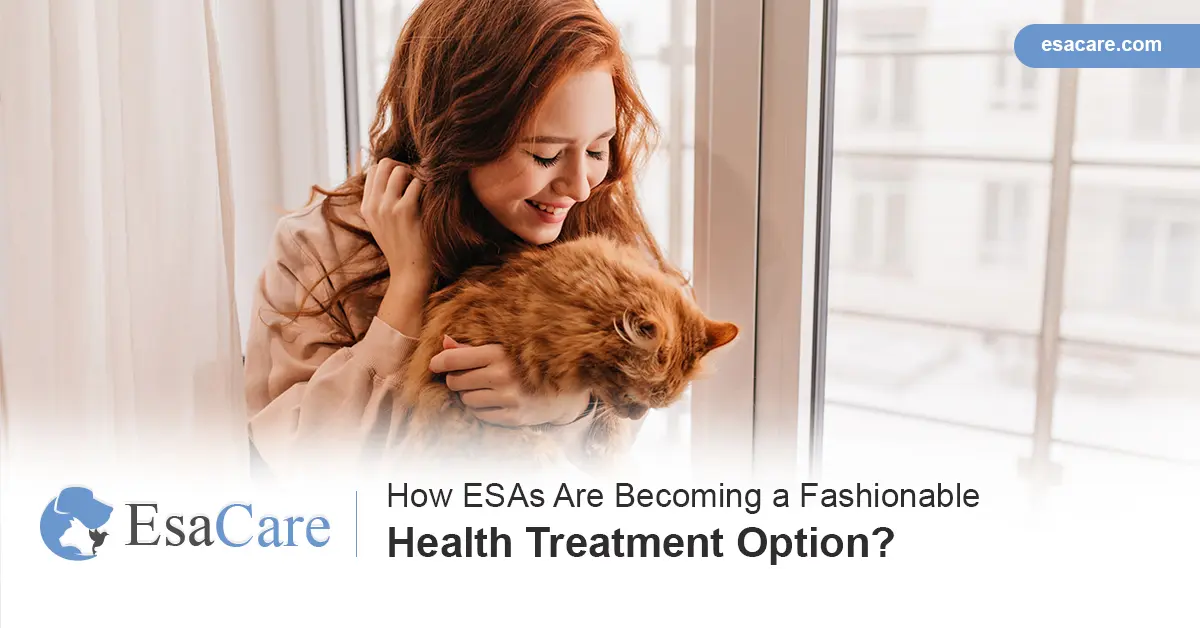 Health is a vital aspect of life and a central piece of human happiness and well-being. Emotional Support Animals have become popular over the years, thanks to their love, companionship, and a proven track of positive results as far as human health is concerned.
In this article, we look at how ESAs are a fashionable health treatment adopted beyond the corridors of healthcare practice. Also, learn how you can obtain an ESA letter and use it to bypass the travel and accommodation restrictions.
Your ESA dog can be your best companion in loneliness. Click the button below to get your ESA letter.
ESAs Help Alleviate Stress and Anxiety
Anxiety is an emotional state that can develop into a severe mental condition if not treated early. Treating anxiety means working on its causes. Stress is a common cause of anxiety, and luckily enough, emotional support animals have proven to be quite effective in managing stress levels.
In a survey, 88% of pet owners were aware that owning a pet reduces stress, and 88% confirmed that an emotional support animal helps alleviate anxiety. Interaction with these animals helps people with long-term mental health conditions cope with the intense stress levels by providing some sense of security and social support.
Spending time with your pet or emotional support animal has been shown to increase oxytocin levels in the brain. Oxytocin is the "love hormone" responsible for the strong bond and affection between a mother and her infant. According to a scientific study, dog keepers experienced a 300% rise in the oxytocin volumes after spending a half-hour with dogs – including the time they gaze into their eyes.
This shows the strong bond between humans and their companion animals, which can be leveraged to reduce stress and boost life quality.
Emotional Support Animals Are Loyal and Caring
Some mental health conditions arise from family and relationship problems. Several people are suffering mentally due to trust issues that have piled up over the years.
It's common for people to go through depression, self-isolation, and lower self-esteem after a failed relationship. It could be due to betrayal, infidelity, cheating, among others. All these come with psychological pain, which may take years to heal.
Living with an emotional support animal during these transitional times will not only help with the healing process, but you also get a family member that is loyal and caring. It can be hard to trust another human being at such times, but you'll always find a heart to trust an innocent puppy, dog, or cat.
Think of that animal that brings you joy and comfort, and you'll find a connection for unconditional love and affection.
Get rid of isolation with an ESA pet. Click the button below to get your ESA letter.
They Boost Your Moods and "Get Your Life Going"
Studies have shown that ESAs can help you maintain an optimistic perspective on life. The human-animal bond has existed for years. This affair goes beyond the intellect to capture the heart and emotions that existed since the beginning of time.
Owning a pet can change your life, and spending time with your emotional support animal will boost your moods and improve the quality of life. People suffering from chronic loneliness, for example, are deeply in need of social and emotional support. More often, these people have low self-esteem and will have a rough time socializing with other people.
There are several ways in which emotional support animals can boost your moods. Dogs are an excellent example of mood-boosters. They are a great stimulus for healthy exercise, and this will go a long way in keeping you in shape and happy.
You Won't Depend On Pills Any More
Over-the-counter medication does not cure anxiety; they only help manage symptoms. Most antidepressants work by inhibiting certain hormones or by increasing the effects of certain neurotransmitters. This helps reduce anxiety symptoms in stressful situations.
Using these pills continuously will eventually suppress the neurotransmitters, and it reaches a point where their effectiveness becomes compromised. Therefore, it's advisable to seek natural and sustainable ways of managing such mental conditions linked to depression and anxiety.
An emotional support animal is a perfect mental health treatment that has shown positive results over the years. Mental health specialists now recommend pet therapy sessions as a scalable solution to curing and managing mental health conditions.
ESA can improve your overall mental health. Click the button below to get your ESA letter.
Conclusion 
There are several reasons you would want to get an ESA in your home. From emotional support, companionship, to unconditional love – these animals are all you've got in your times of need. Before you can legally accommodate or travel around with your ESA, you must acquire a certified ESA letter from a licensed doctor.
The process of obtaining an ESA letter has been simplified for convenience. Nowadays, you don't need to fill some stressful paperwork and tedious office appointments. All you need is to answer an online health questionnaire and book an online appointment with your doctor.
Contact Us today at EsaCare for a legal ESA letter or click the banner below to book your appointment.