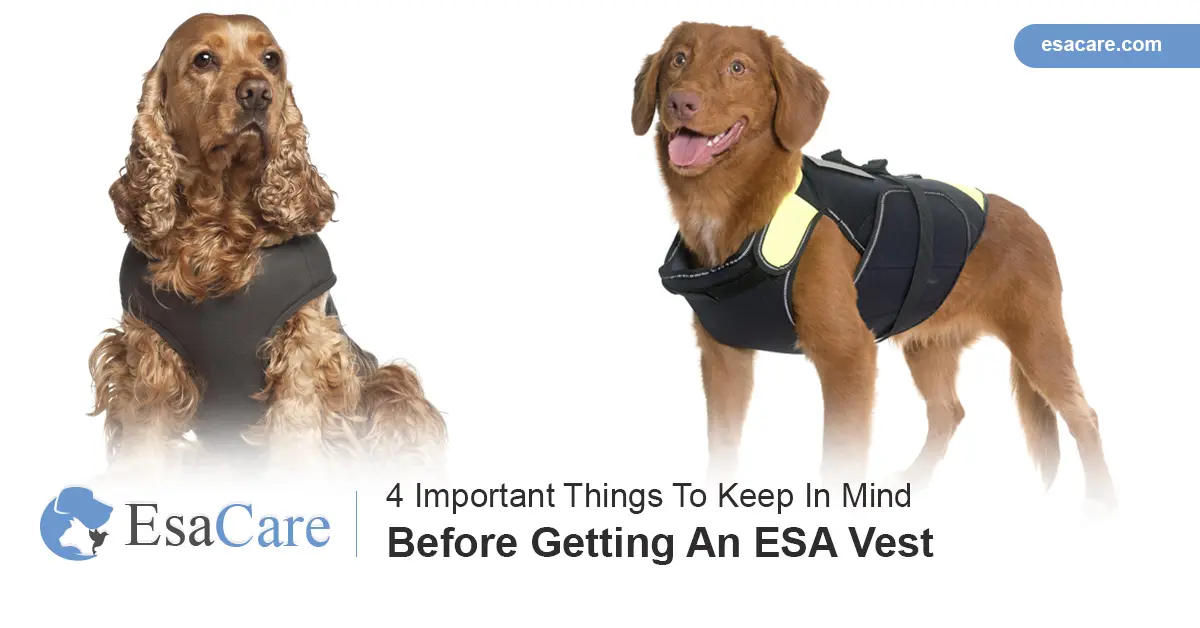 Although you don't need to obtain an Emotional Support Animal Vest, you might want to consider the benefits attached to it. Are you new to ESA vests? We've got you covered! This article gives a step-by-step guide on ESA vests. Without further ado, let's get started! 
Your ESA Dog can be your best companion – Click the button below!
What Is An Emotional Support Animal Vest?
While the ESA vest isn't a must-have, it's quite advantageous. While wearing the vest makes your Emotional Support Animal distinct from other typical pets, it's distinguishable for flight officials, landlords, or others who might be considering your furry friend as a regular pet. People erroneously assume ESA vests are meant for dogs. Nevertheless, people also keep cats as their ESA. This means ESA vests aren't just for dogs; they're also available for cats. Consequently, we'll be discussing steps to take in measuring your ESA. 
Are there any federal laws related to Emotional Support Animal Vest?
There are no laws regarding the ESA vest; neither is it compulsory for your ESA to wear the vest. There's also no law guarding the ESA wear. Thus, your Emotional Support Animal can wear it anywhere.
What Is an Emotional Support Animal?
Emotional Support Animals are animal companions that offer emotional support and mental stability to sufferers of mental health issues like anxiety, depression, Post-traumatic stress disorder (PTSD), Obsessive-compulsive disorder (OCD), amongst others.
Let's talk about the Emotional Support Animals Vest.
Steps to take before getting ESA Vest
Measure Your ESA
Irrespective of the type of ESA, be it cat or dog, you'll need to first measure your ESA before acquiring an ESA vest for them. You can make use of a flexible measuring tape to take their measurement.
How to take a cat's measurement
To take your cat's measurement, you'll first need to calm it. You will have difficulty measuring your cat if it's in a bad mood. Feeding your cat will be helpful when you intend to take their measurement. As your cat relaxes, take the measuring tape and place it beside the girth (area behind the forelegs) and measure that particular area. To measure the length, place one end of the measuring tape underneath the cat's neck and measure the area from the neck to its tail base. For the neck circumference, measure the thinnest part of the neck. Ensure you don't tighten the tape while measuring the neck as it can lead to the cat choking. 
How to take a dog's measurement 
Make sure your dog is standing erect when taking the measurements. To measure the body length, place the measuring tape beneath your dog's neck and measure down to the tail's base. To measure the side length, you'll need to measure the chest region (the center of the chest) and hip bone. Gently wrap the measuring tape around the narrowest part of your dog's neck to measure the neck circumference.
Note: Each dog's measurement varies according to weight. To measure the chest area, wound the measuring tape around the widest area of your dog's chest, placing it right behind the pits. Ensure your Emotional Support Animal (cat/ dog) stands straight when taking their measurements. This helps in taking accurate readings. 
Book an Appointment by clicking the banner below.
Types of Vests
After taking the measurements, the next thing to do is to research the types of vests. There are various types of vests for Emotional Support Animals. These vests include:
When you're traveling, this vest will be your go-to. If you're traveling, you'll need to keep all the utilities for your pet in one place so you won't have to be rummaging through stuff when an emergency arises. Backpack vests come with pockets, which will be useful for students who often take their Emotional Support Animals to the dorms.
This type of vest aids ventilation and helps keep your Emotional Support Animal comfy during hot and sunny days. Dogs with thick fur or double-coated fur will find this useful. This is because dogs with thick fur or double coats of fur are susceptible to heatstroke during summer. 
Cotton (lightweight) vest
The cotton vest is lightweight and of a standard type with some pockets and an ID holder. These vests are the most desirable as they can be light, convenient, and withstand all kinds of weather. They're also suitable for all animals and best for daily use. 
These padded vests will come in handy during the winter. They double as warm jackets. Padded vests seem heavyweight, but they're lightweight. Their lightweight property makes movement easy for animals. Some of the padded vests feature handles that make for easy handling during walks. 
Click the button below to keep your ESA Pet close to you.
Ideal for a small breed of cats and dogs, the tiny cape vest is lightweight and long-lasting. 
This high-quality vest is more expensive than other vests. Alpha harness vest features 2 patches, 3 welded rings, padding for the animal's comfort, and poly-coated material to keep it waterproof. It also has a handle at the top. Another type of alpha harness vest is a reflective harness vest, composed of a cross-linked mess jacket. It aids breathability in thick furred or double-coated animals. 
Choose The Right Fabric
On completing your research, the next step is to pick the right fabric for the vest. Vests are made from different materials. Your fabric choice can be based on the climatic condition of your residence. For example, if you live in a hot and humid area, it is best to get a mesh vest or cotton vest. This helps your ESA to feel comfortable always. A padded vest or alpha harness vest will be well-suited for a cold climate. 
Select The Right Patch
Selecting the right patch is an essential step you should take for your Emotional Support Animal as it's also an identity batch. The patches are of 5 types, and they include:
Service Animal

Do not pet

Working dog
Having known the types of patches, endeavor to pick the right patch for your Emotional Support Animal.
Now that you know the things to put into consideration before getting an Emotional Support Animal Vest, there are two essential things that you should know. They are:
Qualifying for Emotional Support Animal

Getting Emotional Support Animal Letter
Qualifying For Emotional Support Animal
Before you can obtain an Emotional Support Animal Letter, you will have to qualify for an ESA. If you're mentally or emotionally disturbed, you can qualify for an ESA. 
If you're suffering from any of the above-listed conditions, then you should immediately consult a Licensed Mental Healthcare Provider for a proper diagnosis. Once you qualify for an Emotional Support Animal, you can also apply for an Emotional Support Animal Letter. The Emotional Support Animal letter approves your need for the support animal and affirms that you've consulted a licensed doctor or therapist.
To get the ESA letter, you will have to follow a 4 step process.
Steps To Follow To Get Emotional Support Animal Letter 
Step 1: Check for signs and symptoms
First, you'll need to look out for the signs and symptoms of mental health issues. People often ignore the signs and symptoms of mental health issues, resulting in serious mental health challenges.
In a bid to prevent mental health problems, you have to check for the following signs and symptoms:
Insomnia

Loss of interest in hobbies

Loss of interest in meeting people

Constant worry

Change in the appetite

Constantly feeling down

Aggression

Suicidal thoughts (in extreme cases)
If you've been experiencing these signs and symptoms for 6 or more months, then you have to consult a Licensed Mental Healthcare Provider. 
Step 2: Fill in your information
Once you can tell your signs and symptoms, you should visit a health clinic's website and fill out the form with your basic information. Some clinics might request information about your medical history and some information regarding your pet if you keep any. 
Step 3: Arrange the consultation session
The next thing to do is to book a consultation session with an LMHP. The consultation session will take place online. Since it's an online session, you'll need to select the time and date according to your schedule.
Step 4: Consult the LMHP
In this step, the LMHP will reach out to you on the time and date you selected. If you're the forgetful type or you often have a busy schedule, it's advised you mark your calendar. When the LMHP contacts you, he or she will evaluate your mental health condition based on the questions asked. Upon completion of the assessment by the LMHP, he or she will decide based on your mental health if you are eligible for an ESA letter or not. If you're qualified, you'll be issued an ESA letter by the LMHP. To get the hard-copy of the ESA letter, you'll need to wait 2-5 days because good things come to those who wait. 
Click the button below to keep your ESA pet legally!
Final Word
This article explained the 5 fundamental things that you must know before getting an Emotional Support Animal vest. We also discussed the different types of vests. Not only that, but we also put you through the steps to acquire an Emotional Support Letter. 
Although it's not mandatory, an ESA vest can differentiate your emotional support animal from common pets and help save you the stress of explaining yourself to officials every time in a public place.
Get your Emotional Support Animal Letter today by booking an appointment at ESACare.