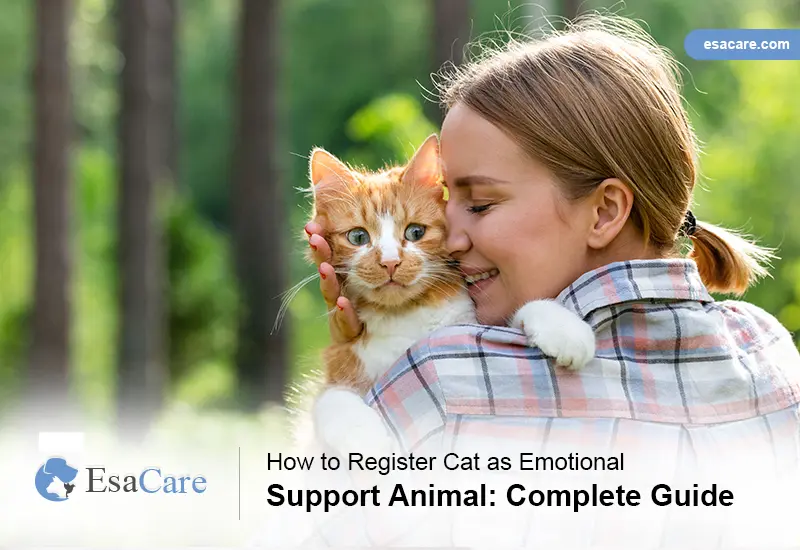 Emotional support animals (ESAs) help their owners solve their emotional or mental problems by providing comfort, affection, and companionship. In addition, ESAs can help you with your medical conditions and some of the most challenging times in life.
In this post, we will focus more on how to register your cat as an emotional support animal. Cats are among the most common domesticated pets and can be found in many homes. They also don't usually pose any threat to humans. These traits are what make them great emotional support animals for many people.
Cats can be a great support system in times of need – Click the button below.
Can You Register Cat as Emotional Support Animal?
Yes, you can register your cat as an ESA. Emotional support animals aren't restricted to any one animal species. You can register your cat, dog, rabbit, pig, mouse, and other animals as emotional support animals.
However, because cats are domesticated animals and very human-oriented, they make for great ESAs. Cats also prefer to spend most of their time with their owners, making them more suitable for becoming ESAs.
Many would even say that a cat's love for humans is as unconditional as a dog's. But because cats are naturally smaller pets than dogs, they don't possess a similar scope of service as most dogs. Unlike service animals, emotional support animals don't require any special skills or training to be registered as one.
Registering your cat as an emotional support animal is a more logical option because they are considered reasonable accommodations for people suffering from various illnesses. Your emotional support cat can help you to better cope with your mental illness symptoms and lead a better life.
How to Register Emotional Support Cat
Registering your cat as an emotional support animal requires just a few simple steps. Here's what you should do to register your cat as an ESA:
1. Connect With a Licensed Mental Health Professional
You need to find a licensed mental health professional about making your cat your emotional support animal. Consequently, you should have a mental health disability to qualify for an ESA. Otherwise, your health care professional cannot be eligible for your cat as an emotional support animal.
2. Demonstrate Why You Need an ESA
You must demonstrate to your mental health professional that you need an ESA to improve your mental health and lifestyle. The one qualifying factor has a mental disability. This may include suffering from anxiety, depression, PTSD, etc. You must also prove that your mental disability limits your daily life to qualify for an ESA letter.
3. Your Cat Should Not Pose a Threat to Others
You must also make sure that your cat doesn't pose a threat to other people around you. It must provide you with the support you need for your disability without posing a threat or being a nuisance to other people or property. Good behavior is mandatory if you want to register your cat as an emotional support animal.
4. Notify Your Landlord
You must also notify your landlord about your emotional support cat before moving in. Please give them your ESA letter to provide a record that you shared your reasons for having an ESA cat on the premises.
What are the Benefits of an Emotional Support Cat?
Because of their smaller size, cats are flexible and don't take up too much space as dogs. They can sit or lie comfortably on you without much fuss. You can also pet them whenever you want without meeting resistance.
Stay mentally fit with your ESA pet! – Click the button below.
You will enjoy many other benefits if you register your cat as an emotional support animal. These include:
Did you know that you can carry your emotional support cat into the air cabin using a portable carrier or crate? Many airlines allow emotional support cats or dogs into the cabin with their owners, provided they don't cause any disturbance or risk, other passengers on board.
However, it would help if you informed the airline in advance. We also recommend improving your cat's social skills before getting it on a plane. Cats are usually more alert to the outdoor environment than dogs. They also tend to be less interested in humans. So, you should have too much trouble keeping them in check while flying.
Access to "No Pets" Accommodation
As aforementioned, once you register your cat as an emotional support animal, your landlord will permit you to live with it even in buildings where cats aren't usually allowed. You cannot be denied housing because you have an ESA. Denying any person the right to live on a property based on an emotional support animal qualifies as discrimination.
The Fair Housing Act allows tenants to live with their emotional support cats even in rentals with a "no pets" policy. Inform your landlord of your rights if he/she is unaware of ESAs.
We also recommend that you notify your landlord about your medical condition and why you must live with your cat and present all the relevant documents for doing so. Some landlords may even charge you extra for pet fees, claiming rental safety.
Unconditional Love and Care
People with mental health issues often feel like they don't deserve love or care from other people and struggle to get any form of affection, too. However, emotional support cats love their owners unconditionally. They will be protective of you. With such pets around, your mood will improve and can even be the stepping stone to finding love.
Medical Benefits of Emotional Support Cats?
As you are already aware, the ideal candidates for emotional support cats are mainly people who have suffered a traumatic event or deal with high levels of stress or depression daily. This also includes people who suffer other mental health complications.
The medical benefits of emotional support cats are quite extensive. ESAs can be incredibly helpful to your overall health and well-being. But it is also worth noting that the results and advantages of ESAs vary, depending on each person's condition.
Many people who have emotional support cats enjoy the following benefits:
Helps with depression

Anxiety relief

Helps with ADD
Many studies show that the two most common benefits of having emotional support cats are depression and anxiety relief. Admittedly, we have all gotten to that moment when we experienced low moments in life. However, these are the times when having an emotional support cat around can be incredibly beneficial.
Traits of an Emotional Support Cat
Before you register your cat as an emotional support animal, it needs to check if it has certain traits. Naturally, an emotional support cat should provide you the comfort you need and form a special bond with you to know when you aren't your normal self.
The main role of an ESA is to provide you with emotional support and comfort. Therefore, your emotional support cat must be calm enough not to cause disturbances in public or their home setting.
An ESA pet can improve your lifestyle – Click the button below.
How to Register My Cat as an Emotional Support Animal
From the excerpt above, you now know that you can register cats as emotional support animals. However, to get an emotional support cat, you must have an ESA letter that allows you to move freely with your cat.
Esa Care has qualified physicians and mental health practitioners to guide you on how to register your cat as an emotional support animal. Our registration process is fast, simple, and reliable. So drop us a line today and embark on a life of mental stability and fulfillment.
Get your Emotional Support Animal Letter today by booking an appointment at ESACare.