Rayne Hall is a renowned fantasy and horror writer. She is famous for writing the Writer's Craft Series, which is among the bestselling book series. Most of her work is published in an innumerable number of anthologies. Her work has been translated into multiple languages over the years. She has over sixty published books that are published in different pen names. Her work is also published in magazines and e-zines. Rayne Hall also shares her writing works on various social media accounts; she is very influential on Twitter and Facebook. She helps students and authors better their writing game by offering online training tutorials and speaking at conferences.
Cats can be a great support system while suffering from mental health issues – Click the button below.
Rayne Hall has worked in the book industry for almost three decades. She has served in various book industry roles, such as; publishing consultant, literary agent, production editor, publishing manager, editorial assistant, and magazine editor. Other significant roles in society include; adult education teacher, museum actor, apple picker, translator, belly dancer, and tarot reader.
She has lived in China, Germany, Nepal, and Britain and is currently living in Bulgaria. She enjoys reading, walking, training cats, and gardening while in Bulgaria. She also visits ancient Roman ruins and hot springs in her current residence.
Rayne Hall Love for Cats
Rayne Hall has a black cat named Sulu, and she refers to the cat as a writing companion and a great book promoter.  Sulu is a literate cat who has mastered the art of reading books by merely savoring the texture and smell of printed pages.
Sulu was in an unfriendly environment and subjected to rejection due to her color before purchasing the cat. The connection between Sulu and Rayne Hall was instant, and the love grew with time. She is attached to the cat, and their relationship is admirable.
Sulu is Integral in marketing her books. People are intrigued by the cute cat and its ability to perform some activities. Posting the cat on various social media accounts creates traffic for her readers. Most of her posts are liked, re-shared, and re-tweeted.
Sulu Created a Brand for Rayne Hall
Thousands of her followers associate her with Sulu. Most people on Twitter mostly visit her page to view the cat's latest photos and videos. Owning the cat has led to a skyrocketing of followers and feedback on social media. The black cat has been very integral in her brand recognition and better marketing strategies. Most people associate the Writer with a marvelous cat.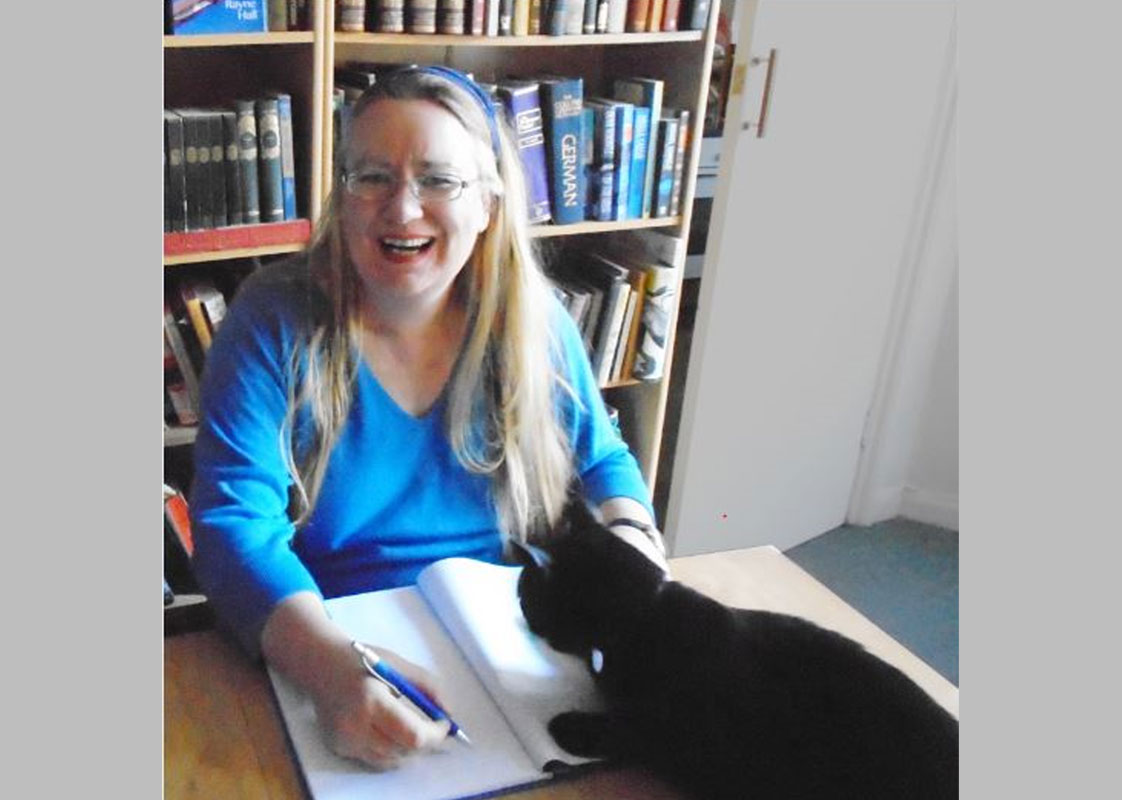 I suffered from clinical depression – The severe kind, so crippling that I was registered for years as a mentally disabled person. In that period of darkness, pain and despair, a friend said, why don't you adopt a cat? I'll take you to a cat rescue shelter and help you choose the right companion.
A volunteer from the Cats Protection shelter came to interview me and inspect my home to make sure I would be able to look after a cat. Then my friend organized a day out for us, during which we visited the cat sanctuary. We saw many beautiful, healthy cats, but none showed any interest in me. Then the volunteer who had interviewed me said, in the next kennel, there's a cat I want you to meet. I think he could be the one. A kitten – eight months old, shiny black – came to sniff at my hand, allowed me to pet him, tried to crawl into my jacket sleeve and made it quite clear that he liked me.
He had already waited in the shelter for five months while potential adopters passed him by, simply because he was black. Despite his sweet gentle nature, intelligence and cuteness. Potential adopters said they didn't want black cats, believing them to be evil or unattractive. So the gingers, tabbies and whites found homes, and the black cat languished without finding love.
Well, I thought this black kitten was beautiful. His friendly, gentle nature won my heart.
Above all, he obviously liked me, and that decided my choice. My friend and the shelter volunteer agreed: this was the cat for me.
People often ask if it was love at first sight for Sulu and me. I'd describe it as liking at first sight – the real love came later, when we came to know each other.
2
How Did You Come Up With the Name? Does It Have Any Specific Significance?
As a kitten, Sulu was a keen explorer, curious and fearless, even by cat standards. So I wanted an explorer's name. After observing him for a while, he reminded me of Lieutenant Sulu from the 1960s series Star Trek.
It is easy to get your hands on an ESA letter. Get yours now by clicking the button below.
3
What is the Best Memory Involving Your Emotional Support Cat?
Every day with Sulu has been special, and there were many moments when he brought a smile to my face filled my heart with sunshine.
I'm a writer, and spend many hours every day working on my laptop. Sulu soon decided to keep me company by snuggling on the desk between my arms. Sometimes he wraps his paws around my wrist or takes a nap with his head in the crook of my elbow. This is so sweet! He does it in ways that don't hamper my typing. He's the ideal writer's cat.
When I moved to Bulgaria, Sulu came with me, of course. He loves it here. It's safe for cats to be out of doors, and he often accompanies me on my walks in the countryside, exploring all the exiting sounds and smells.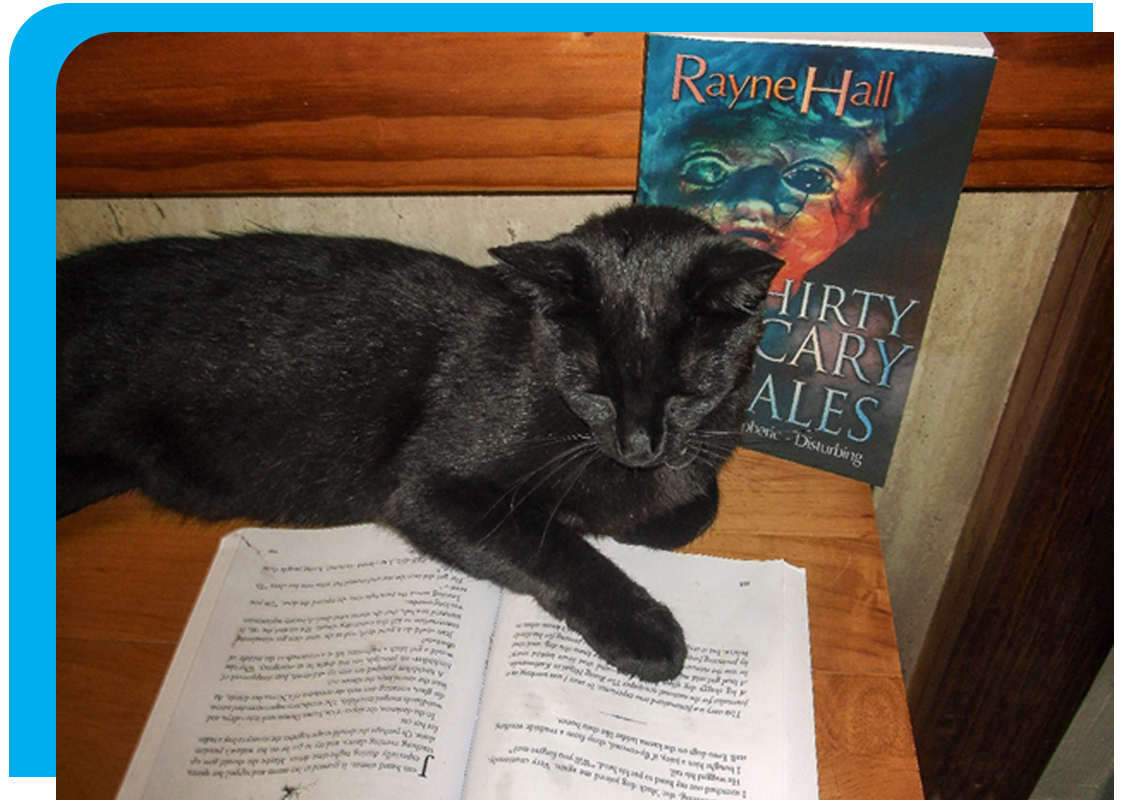 4
Rescued a Cat and Kept It as a Pet. Do You Believe Pets Can Help Soothe Your Mental Health?
Definitely. Sulu played a big role in my recovery. He was more than a companion and comforting purr cuddler, he was a real partner. We appreciated each other. Getting appreciated is so important to make us feel good.
Sulu also helped me break through the crippling lethargy that had kept me in a stranglehold. Even when I couldn't summon the strength to care for myself, being responsible for my cat's well-being often gave me the push to get out of bed and look after him.
At first when Sulu came to live with me, he was shy and cautious. But I made it my priority to gain his trust. Once he realized that he had a real home and that he was loved, he was so happy! Seeing this little cat's happiness warmed my heart – and knowing that I had brought this about, that I had saved him from being ignored and forgotten in the shelter, made me feel good. Suddenly my life had a purpose – and that's a huge benefit when you're depressed.
5
What is the Most Satisfying Thing About Being a Cat Owner?
This may not apply to all cat owners, but I have a real partner in my cat. While some cats treat their humans as housekeeping staff, Sulu views me as his equal. We don't boss each other about, but grant each other's request.
Many people think that cats can't be trained, but they can – if they want to. Sulu loves it. He has learnt to sit, stand, lie down, turn, shake hands, high-five, give kisses and more, and he enjoys performing. Of course you can't give orders to a cat. I'm not commanding Sulu. Instead, I make requests which he chooses to grant. He enjoys our training session.
Every day, he requests at least ten minutes of practice and performance. He hops on the table and looks at me expectantly. Even better, he likes to 'read' books. Whenever there's an open book on the table, he lies down next to it, with his paw on the page, and 'reads'. He's become an internet celebrity as Sulu, the book-reading black cat. For me as a book author, this is fantastic, because I get to take cute photos to promote my book.
Sulu has become something of a social media celebrity, especially on Twitter. Many of my fans tell me that seeing photos of Sulu in their social media feed puts a smile into their day. So in a way, Sulu provides sparks of joy and emotional support not just to me, but to thousands of people worldwide.
Your ESA pet can improve your lifestyle – Click the button below.
6
In Your Opinion, Why ESA (Emotional Support Animal) Letter is a Topic of Contradiction?
I believe it may be due to ignorance. Many mental health professionals aren't aware that pets can provide emotional support and aid recovery. In the ten years that I received treatment for my mental illness, dozens of professionals examined me – and not one of them suggested getting a cat. Looking back, it seems that I was an obvious candidate for an emotional support cat – but all the doctors, psychologists, psychiatrists, psychotherapists, occupational therapists etc. could think of was prescribing pills and counselling.
If mental health professionals don't understand what an Emotional Support Animal is and does, of course they won't recommend one, and they may be skeptical if other professionals do.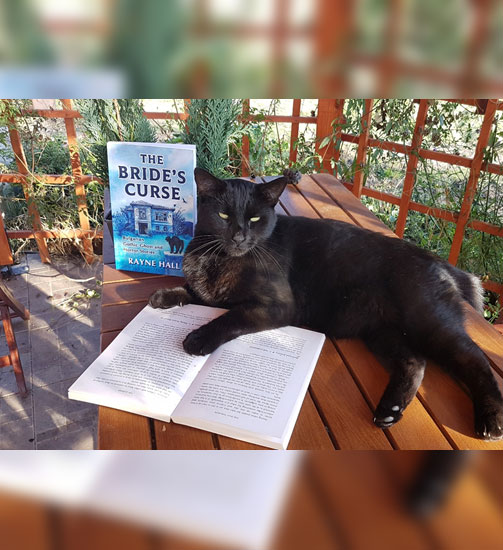 7
You've Made a Full Recovery From Mental Disability, and Have Been Free From Depression for Years. How Did You Manage To Get Out of That Dark Hole?
During the most severe phase, I took prescribed medication, and I found weekly psychotherapy sessions very helpful. I had excellent therapists who showed me coping strategies for getting through the terrible times.
Other measures that helped me were guided meditation and self-hypnosis (the kind where you lie down, close your eyes, listen to a CD with a therapist describing a journey and use your imagination to follow the experience), gemstone therapy (holding certain kinds of stone, especially carnelian, really brought some relief from acute inner pain), aromatherapy/essential oils (evaporating sweet orange oil always lifted my mood a notch, and lavender oil was calming for anxiety and panic attacks), physical exercise (summoning the willpower for that was difficult, but it brought big benefits).
Of course, my wonderful emotional support cat has helped – thank you, Sulu! Above all, I used writing as self-therapy. I found that by writing about my experiences in certain ways, I could gain control over how I felt, and this was empowering and liberating.
Once I had made a full recovery, I used the techniques I had discovered to help other depressed writers. I worked with Alexander Draghici, a clinical psychologist who specializes in treating emotional disorders, to develop a program. Together, we wrote the book, Write Your Way out of Depression: Practical Self-Therapy for Creative Writers. myBook.to/Depr This has helped many people, especially those who for some reason can't get one-to-one therapy sessions, or who prefer to take charge and help themselves. I receive many emails from people who say the exercises in the program have brought a big improvement to their lives.
Are you feeling emotionally unstable? Keep your ESA pet close – Click the button below.
8
Are You Working on Anything at Present That You Would Like to Share With Your Readers?
I'm writing short stories set in Bulgaria, the country where I live now. They're Gothic Horror with ghosts, vampires, demons, abandoned houses, ancient curses and spooky cemeteries, more creepy than gory. Many of the stories feature cats.
The first book has just been published: The Bride's Curse: Bulgarian Gothic Ghost and Horror Stories. Thirteen Creepy, Suspenseful Tales. Several of the stories feature cats, and there's a black cat on the book cover. Sulu clearly approves.
Animals demand affection and care. So do humans. By joining them together, those who need extra physical warmth and companionship can feel love and attention. Also, taking care of another living being helps a person feels significant, which is crucial, especially for those with mental illness. Focusing on their ESA helps move their attention away from the things that cause anxiety and help them become motivated to do good things for their mental health, like getting outside and going on walks. An animal's responsibility may be a challenge, but it also gives people a sense of purpose and increased positivity.