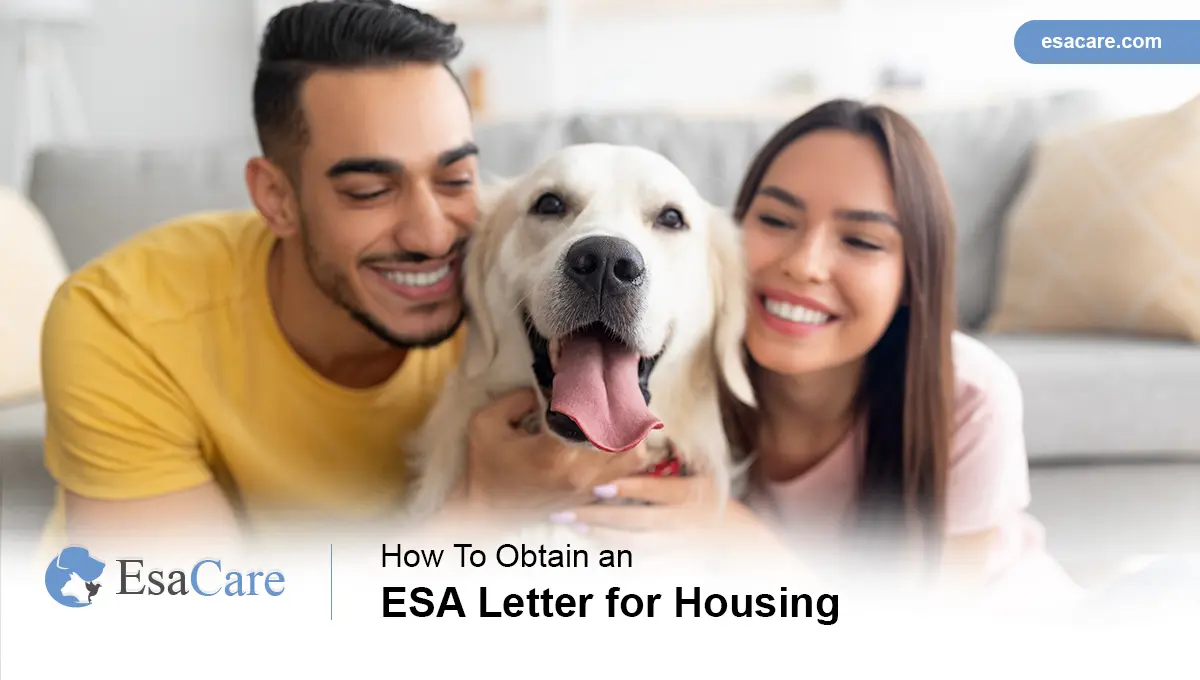 Would you like to live with your emotional support animal in an apartment or other rental property without harassment from housing providers? Then you need a letter from a licensed mental health expert stating the importance of the ESA to you so that you won't be subjected to unfair pet deposits, breed restrictions, or any other unfair policies.
Renew your ESA Letter with us – Click the button below.
ESAs, or emotional support animals, provide therapeutic benefits for individuals with emotional health issues. They are relied upon for comfort and companionship and do not need special training. ESAs are recognized under the Fair Housing Act. As an ESA owner, you are not discriminated against by landlords, homeowner's insurance companies, and real estate companies as long as you have an ESA letter.
Who Can Provide an ESA Letter for Housing?
You can potentially obtain an ESA letter for Housing from many of the mental health doctors you see regularly:
Family physician

Counselor

Psychiatrist

Social worker
Let them know your desire to get an emotional support animal the next time you get a session with them. You can, however, speed up the process by getting in touch with an ESA doctor online.
Step-by-Step Process for getting an ESA Letter for Housing Online
The majority of ESA doctors offer affordable ESA letters for Housing online. Here's a breakdown of the process for getting a reasonable ESA letter for Housing:
A pre-screening test
A pre-screening test is usually a prerequisite to getting an ESA letter online. Find out if you qualify for an Emotional Support Animal letter by completing a health questionnaire. Get your results in seconds.
The questionnaire will have a few questions concerning you and your animal friend. The purpose of this section is so that you can disclose current symptoms or mood disorders you may be experiencing.
There is no need for medical records. This exam assists clinicians in determining how to help you and if you need an ESA. You are ready to go to the next stage when you get the results.
Choose your desired plan
Decide which plan is best for you and your pet. Then, pay with your credit card and schedule an appointment with a mental health professional. Payments are processed through a secure gateway.
Talk with a licensed mental health expert
A licensed mental health specialist will contact you at the time you specify. It's done through a video call, and you must complete the video call to ensure the process meets legal requirements.
They will discuss your needs with you and provide treatment recommendations for your mental illness; this includes an ESA letter if they believe your treatment plan will benefit from an ESA.
Get the ESA Letter
After your application has been approved, you will receive a certified ESA letter in PDF format. You will be able to access the digital file at any time. They can also send the physical copy via mail.
An ESA Letter for Housing Sample
What Does a Legal ESA Letter Look Like? Basically, ESA letters are nothing more than a doctor's note detailing what kind of emotional support you require. You can check the ESA letter for housing template at the Department of Housing and Urban Development (HUD).
Moreover, ESA letters must include the contact details of the issuing mental health practitioner who has diagnosed and agreed with your need for emotional support and, therefore, an ESA. The contact information is necessary if the landlord doubts the letter's validity.
Don't let stress get to you – apply for an ESA letter now!
What are the ESA Letter Requirements for Housing?
ESA letters can take many forms. A valid ESA letter must, however, meet specific requirements. The following should be included in the ESA letter you receive from your counselor, social worker, or doctor:
The exact emotional distress that your animal friend can help ease. The emotional distress must be listed as specified in the DSM IV (Diagnostic and Statistical Manual of Mental Disorders).

Why you should keep your pet close to you continually: For example, if the DSM IV diagnosis is PTSD, the reason for ESA will be to calm you in case of panic attacks.

Your active involvement in the professional's care.

To be valid, it must be not more than 12 months old.

It must include the licensed professional official letterhead so the housing provider can contact them regarding any concerns.

It must also specify the pet you keep.
ESA Letters and the Fair Housing Act
Suppose your ESA letter has all the above information. In that case, the Department of Housing and Urban Development (HUD) will require the housing provider to make an exception to their "no pets" policy so you can keep your animal friend in their homes.
What Can Disabilities Make you Eligible for an ESA Letter for Housing?
HUD doesn't specify the disabilities that qualify for the "no pets allowed" exception. Instead, they define an ESA's job as providing emotional support to people with emotional distress and that the distress necessitates such assistance.
Usually, all you need for such an exception is an ESA letter from a mental health specialist confirming your need for emotional support. A property owner may also request that potential tenants present proof of their health conditions from their doctor. This doesn't include personal and private medical records.
Some of the mental distress conditions that make you eligible for ESA letters include:
Anxiety

Separation Anxiety

Fear/Phobias

Stress

Mood Disorders

PTSD
Housing providers may require you to prove that your animal friend helps with your disability, provides therapeutic support, etc. A letter from your physician or psychiatrist is sufficient to verify the claim in most cases.
Benefits of ESA letter for Housing
You, however, are financially liable for any damage caused by your animal friend. So even if you are not legally required to train your emotional support animal, you'd be wise to housebreak the animal to avoid embarrassment and potential harm to neighbors.
For example, taking your ESA to group training can improve their people skills and help them bond well with other pets. Moreover, you can train your animal friend to assist with special tasks such as medical alert, hearing assistance, mobility assistance, etc. First, however, make sure it can cope with the emotional strain.
Additionally, carry a veterinary health form, ESA ID, and keep your animal in special vests. These documents and vests will help distinguish your animal friend as an ESA and not just any pet. They come in handy when dealing with stubborn landlords.
Keep yourself engaged with an Emotional Support Animal  – Click the button below.
Wrap-up
Emotional support animals are essential to people with emotional health issues. They offer companionship and affection. Under the Fair Housing Act, you are protected from " no pets allowed" discrimination as long as you have a legitimate ESA letter. If you feel that an emotional support animal could benefit your mental health, schedule a pre-screening test and meet with an ESA doctor for approval. The pre-screening test only takes 5 minutes.
We can answer any more questions you have concerning ESAs and your ESA rights through our website.