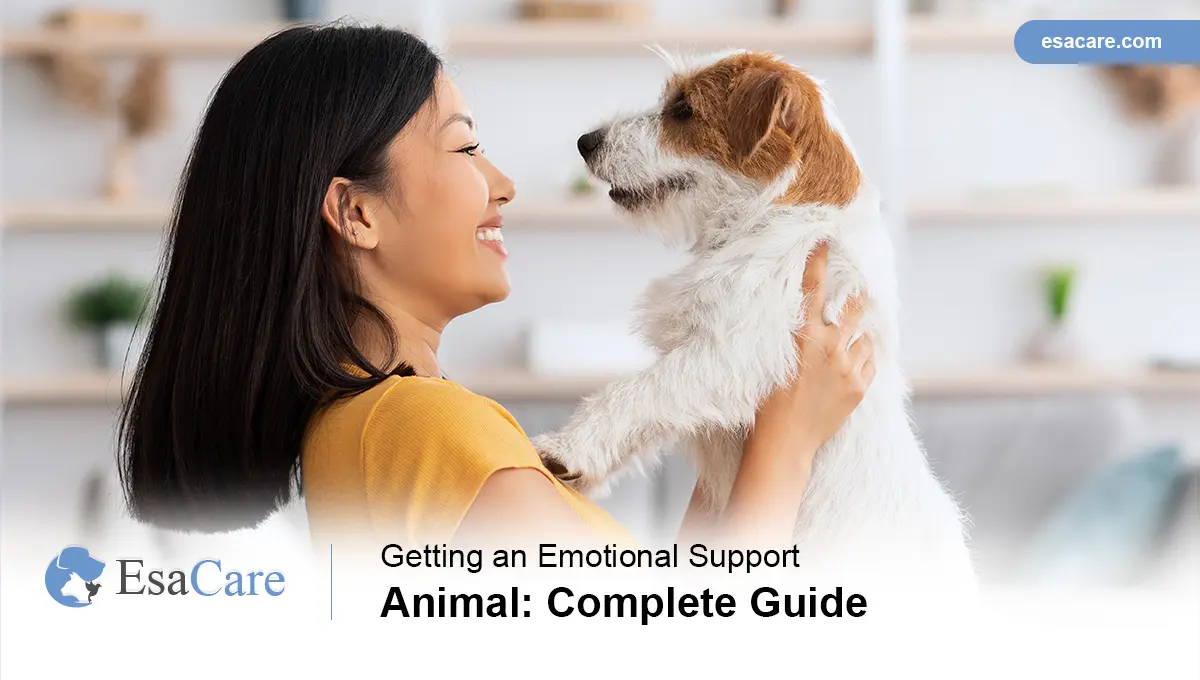 By now, it is common knowledge that animals can ably lift our spirits. In particular, if you suffer from a qualifying emotional or mental disorder, you, like multiple other individuals who have recently made headlines for attempting to fly with their pet, might gain even more from always having a critter right by your side.
Get Your ESA certification by clicking the button below.
Emotional support animals (ESAs) define assistance animals, certified to accompany their owners always, including places that restrict pets like in planes. But since not all workplaces, airplanes, or specific communities permit pets, you will have to go through several hoops to qualify to get an emotional support animal. So how do you do this?
Below are four steps on how you can get an emotional support animal.
1- Get a Diagnosis From an Accredited Physician Before Getting Your Emotional Support Animal
If you are suffering from severe depression, post-traumatic stress, anxiety, or any other mental or emotional disorder, an emotional support animal can help you significantly.
As such, the law allows you to bring your pet to locations where normal pets are usually prohibited (such as on planes or animal-free buildings), as the Washington-based legal-advocacy institution, the Bazelon Centre for Mental Health Law outlines.
However, to qualify for this, you need a diagnosis from a mental healthcare provider or professional doctor before you can bring your adorable pet everywhere with you, such as on the plane.
2- Apply For An Emotional Support Animal Prescription
While you are not legally obligated to register your emotional support pet, you need a legal emotional support animal letter from an accredited mental healthcare facility. This is to help you 'go around' some regulations and rules established for standard pet owners.
Ideally, this letter is proof that you need your pet nearby. Typically, this letter must outline that you are a patient, you have a disability (specifics not necessary), and that the animal tagging along with assists you to cope.
When getting the letter, ensure the institution includes their license number, letterhead, date, and contact details. Moreover, the ADA (America Disability Act) requires that you renew your copy annually to keep it up to date.
Carry an authentic ESA letter to travel with your pet – Click the button below.
3- Request a Written Exception Document If You Work or Live In a Pet-free or Restricted Area for Your ESA 
According to ADA, emotional support animals should be legally accommodated even in places that otherwise restrict pets. Even so, some particular employment and housing rules, like in no-pets communities, for instance, still prohibit them.
In such instances, you need to get permission allowing you to bring your ES pet. You can do this by formally submitting a written request to the concerned administration or owners of these places, as well as an attached copy of your ESA prescription as proof.
If they permit you, fantastic! However, if they offer you a cold 'no' response or an unbefitting alternative, you can always file a discrimination complaint or get in touch with a professional lawyer for legal counsel.
4- Choose Your Pet
Finally, choose the preferred pet-almost any animal of your choice! The ADA states that in contrast to service animals that may include common pets like dogs, cats, monkeys, and pigs, and emotional support, the pet can be any animal species. What's more, these animals need not have any specialized certifications or training.
While studies on how animals besides horses and dogs benefit emotional support patients, surprisingly, virtually any animal that tickles your fancy is acceptable-even hamsters! However, if you pick a somewhat less common species like rodents, spiders, or even reptiles and want to travel with it, your pet might not be covered.
The ACAA (The Air Carrier Access Act), for instance, does not cover this, despite allowing emotional support and service animals to board flights. Similarly, the ADA restricts foreign carriers from bringing along any other animals besides dogs.
Stay mentally fit with your ESA pet! – Click the button below.
Need Assistance Getting Your ESA?
Bring your pet along wherever you travel with a certified ESA letter from ESA Care. If you want to qualify for an assistance animal but can't afford or find an appropriate therapist, ESA Care is here to help. We can link you up with a licensed physician with proper ESA knowledge to help you out.