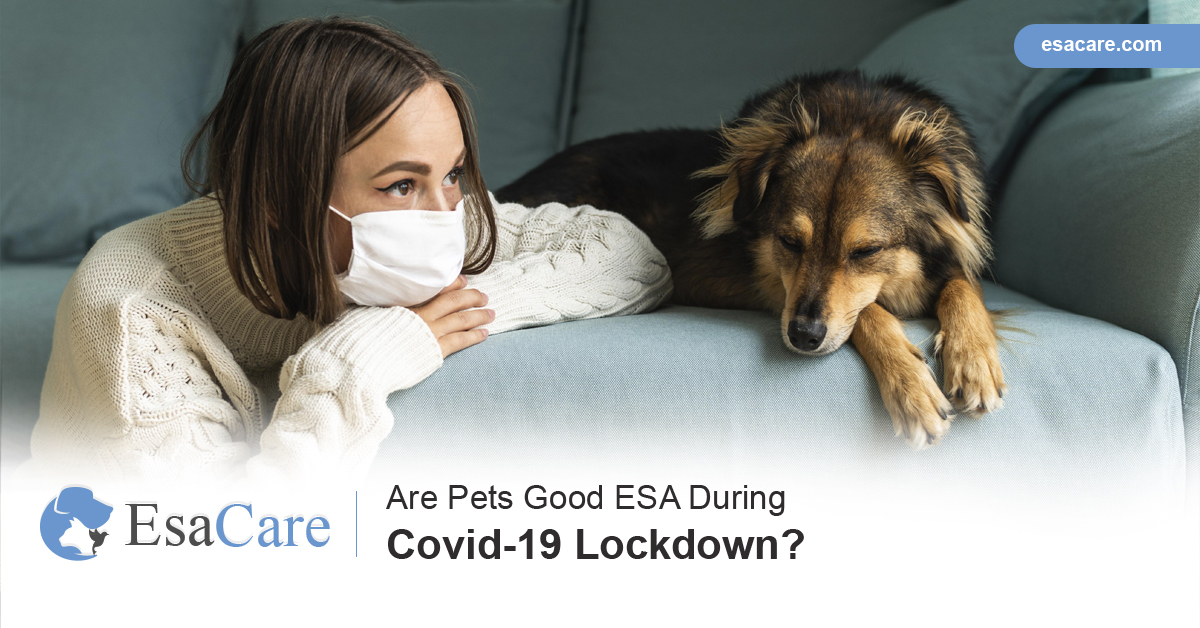 Many mental health technicians have already painted a true picture of how important social connections are during the current COVID-19 pandemic. However, the restrictions put in place as a measure of combating the spread of the disease means social connections need to be maintained at the bare minimum.
An Emotional Support Animal is more than a pet –  Click the button below.
This points to anticipated high cases of loneliness and isolation. The NCBI research reveals that young adults are at this high risk for increasing loneliness and mental health issues during the pandemic. However, the international journal of social psychiatry shows that pet ownership protects against loneliness for those affected during the COVID-19 lockdown.
Pets and Emotional Support during the Pandemic
The most challenging aspect brought about by the COVID-19 pandemic is the complete hindrance to social interactions. Though the disease itself has had major ramifications, different cases of isolation and loneliness have had a huge toll on mental health.
The fluctuation between social distancing and quarantine in many places has also played a major role in increased stress levels, anxiety, and depression. This is why most mental health professionals recommend the company of pets and other companion animals as more beneficial than ever.
They play a huge role in combating loneliness and providing the necessary company to keep mental problems at bay. Aside from dogs alone, pets of all types have been shown to diminish the negative effects of COVID-19 on mental and emotional health.
Pets, Service Animals, and Emotional Support Animals
Perhaps you might be wondering if pets can be classified as emotional support animals. The fact is, all pets qualify as emotional support animals, albeit with some special provisions. 
According to the American Kennel Club, an emotional support animal must be legally prescribed by a certified therapist, psychologist, or psychiatrist. 
Therefore, only people living with mental illness or disorders benefit from emotional support animal rehabilitation. This is a stark difference when it comes to pets and companion animals. On the other hand, a service animal can be any pet animal trained to perform specific tasks on behalf of a disabled individual.
How Do Pets Offer Emotional Support During Covid-19 Lockdown?
Having a pet friend at home that brings a balance to your mental and emotional health during these pandemic times is considered a healthy move. Perhaps it explains why 90 percent of Americans view pets in high regard and consider them part of their family. 
These animals are proven providers of comfort and companionship, especially to people experiencing isolation and seclusion. Interacting with them and having positive physical contact has a positive physiological and psychological benefit to the owner. 
Emotional Support Benefits of Pets during Pandemic
Even when there is no pandemic imposed lockdowns, pets bring so much to your life. They are a major source of happiness, joy, and untiring devotion. These mental benefits of pet ownership are even more valuable during these stressful pandemic times.
With the limited contact with the outside world, you and your pet can get things up and running while stuck in your home all day. The invaluable companionship and entertainment derived from your connection with the pet at home help lift your mood and mental stability.
You don't have to worry about social isolation again, as your trusted pet is all there to stir things up and reduce any feeling of isolation. Aside from addressing your isolation and loneliness needs, your pet is also beneficial in other ways such as:
Research conducted since the outbreak of covid-19 reveals that 33 percent of adults in the US have experienced stress, anxiety, and sadness. This is a true picture of how the pandemic has taken a toll on many people's mental fitness and emotional wellbeing.
But, the company of your pet makes things easier for you. It has been revealed that spending time near your pet during these tough lockdown times reduces your stress levels. An active connection with them, which may include petting around, further alleviates tension, anxiety, and worry.
Helps Improve Your Physical Fitness
To most people, quarantine times have presented a perfect time to be couch potatoes. Binge-watching and playing endless video games are the order of the day. However, do you know that this lifestyle greatly affects your physical fitness and mental health?
Having a pet around can be more beneficial as they will keep you up and running in the house. Implementing daily routine exercises with your pet helps release endorphins that are good in mood-boosting. Therefore, you stay physically fit while at the same time maintaining mental strength.
Increase in Feel-Good Hormones
Petting your dog helps you release the feel-good hormones of serotonin, dopamine, and oxytocin. For instance, oxytocin is released when you stare straight into your dog's face. These hormones are key in boosting your mood and promoting social bonding during these hard times of Covid-19.
Your ESA dog can be your best companion – Click the button below!
Final Thought
Covid-19 has left behind a tail of immeasurable impact affecting people both directly and indirectly. The isolated lifestyles and varied reasons for feeling anxious and sad have left many mental and emotional problems. 
The consideration of pets as emotional support providers couldn't have come at any better time than this. Limited contact means you have no one to turn to apart from your little furry friend. You can now trust ESACare for the best recommendations that will help you take your pet anywhere you want.
Get your Emotional Support Animal Letter today by booking an appointment at ESACare.