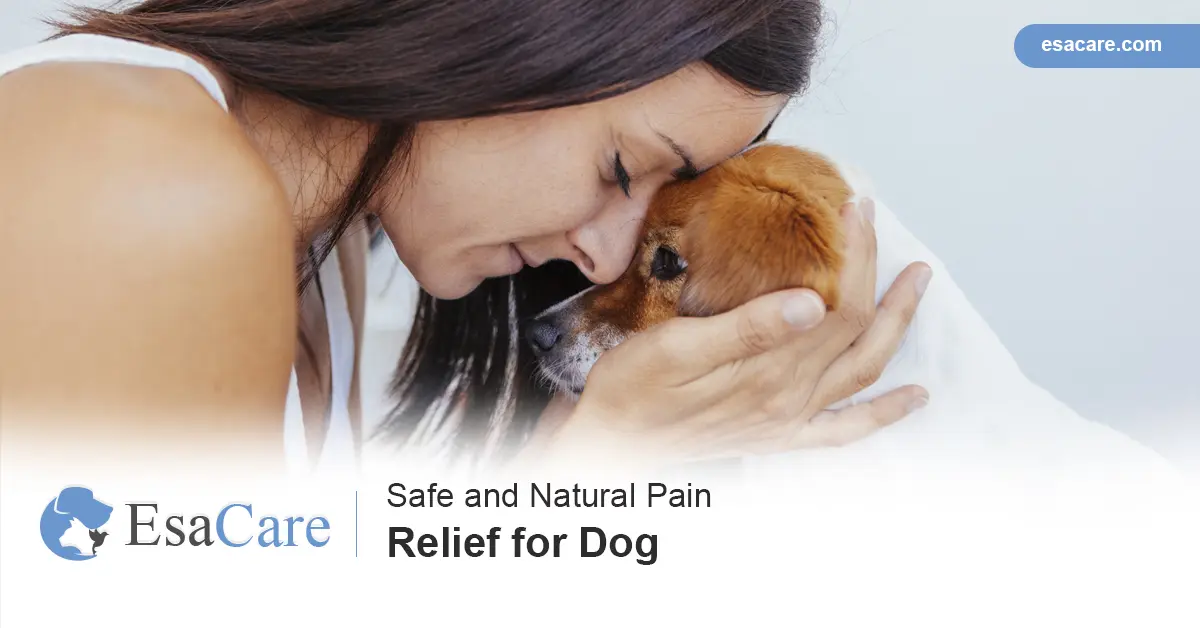 A dog is the closest animal to a human being. Maybe this is because it is one of those animals that were first domesticated by man. This way, it's straightforward for a human being to notice any dog's behavioral change. 
An Emotional Support Animal is more than a pet –  Click the button below.
A dog is always considered a lovable, happy, and playful animal, but the dog may become dull, weak, and withdrawn in some instances. This happens when the dog is in pain, infected/sick, or injured.
Since dogs have become part of the man's family, looking at a dog in pain, suffering, and helplessness is the worst feeling ever to a human being. That's why most people prefer engaging a vet to check what's happening to the dog. 
Not all times the vet is available, and that's why it's essential to learn a thing or two about how to relieve the pain from a dog naturally. In this article, I'll be discussing some of the ways one can use to relieve pain from a dog naturally.
Temporary Pain Relief for Dogs
One of the natural pain relief for dogs is nonsteroidal anti-inflammatory drugs (NSAIDs). These are drugs mostly used by a human being to reduce stiffness, joint pain, and swelling. NSAIDs can be used to relieve pain from a dog too, but you should take caution since some of the NSAIDs drugs used by human beings are toxic to a dog.
The good thing is that there are NSAIDs explicitly manufactured for dogs. These include firocoxib, meloxicam, carprofen, and deracoxib. A dog specifically can use NSAIDs to relieve pain from a dog with a painful surgery wound or arthritis to relieve joint pain.
Pain relief for dogs should be administered either orally or by injection. Giving oral pain relief to a dog is not that easy. You should add the liquid, tablet, or pill to the food and the dog. If it's a liquid drug adding it to milk is easier. If it's a tablet/pill, one can consider adding it to a meatball then giving it to the dog.
Natural Pain Relief for Dogs in the UK
As I said earlier, some painkillers used by human beings can be toxic to a dog; thus, many prefer to go the natural way to pain relief for dogs. These natural ways include acupuncture and homeopathy. Let's narrow down and discuss them further:
Borax Remedy – It is merely soothing the dog to relieve agitation and fear caused by thunderstorms or fireworks sounds.
Arnica – It's a method mostly used to treat surgical wounds. You can use it in a dog to treat soreness, muscle pain, and stiffness.
Silicea – This is made from raw materials; therefore, it lacks impurities. Silicea relieves pain in a dog by removing foreign bodies such as splinters.
Calendula – This is mostly used for rashes, wounds, inflammation, and other conditions. Calendula treats lacerated damages caused by irritation or infections on a dog.
How to Help a Dog in Pain at Home
Apart from the above ways, there are other ways we can refer to as 'more natural' when it comes to natural pain relief for dogs. They include:
Surrounding the dog with comfort – This can be by ensuring that the material the dog is lying on is soft. This one can be improvised using fluffy blankets or a soft bed.
Keeping the dog company – This is key for pain relief for dogs. Just as human beings, they feel cared for. It would help if you did this with caution as some dogs prefer to hind and be left alone.
Giving a massage – Massaging the dog from head to toe will go a long way in ensuring the dog is comfortable. This also helps to identify anything usual on the dog's skin.
A balanced diet – Giving your dog a balanced diet will help keep the dog's weight and help monitor when the dog has lost appetite or when a special diet is needed.
Natural Anti-Inflammatory for Dogs
Many dog owners are less knowledgeable about some herbal remedies in natural pain relief for dogs. The truth is there are several herbal remedies for relieving pain in dogs:
Turmeric – It contains curcumin, and it's one of the best herbs when it comes to relieving joint pain in dogs. However, if taken in high doses, it could cause stomach upset. Therefore, always consult the veterinarian before using it on your dog.
Hawthorn – It helps stabilize collagen stabilization, thus a right choice for treating arthritis dogs. Hawthorn increases blood circulation to remove toxins built up in your dog's joints.
Cinnamon helps treat diarrhea, irritable bowel, and joint pains in dogs. Cinnamon anti-inflammatory properties prevent your dog's joint tissue tear and wear.
Your ESA dog can be your best companion – Click the button below!
Conclusion
It's usually essential to consult a specialized dog vet who will have the best understanding of the condition being treated and will be able to advise on what to do to relieve pain in dogs. It's good to do in-depth research before introducing any drug to your dog. For more help, Escare is an excellent place to take your dog for help.
Get your Emotional Support Animal Letter today by booking an appointment at ESACare.