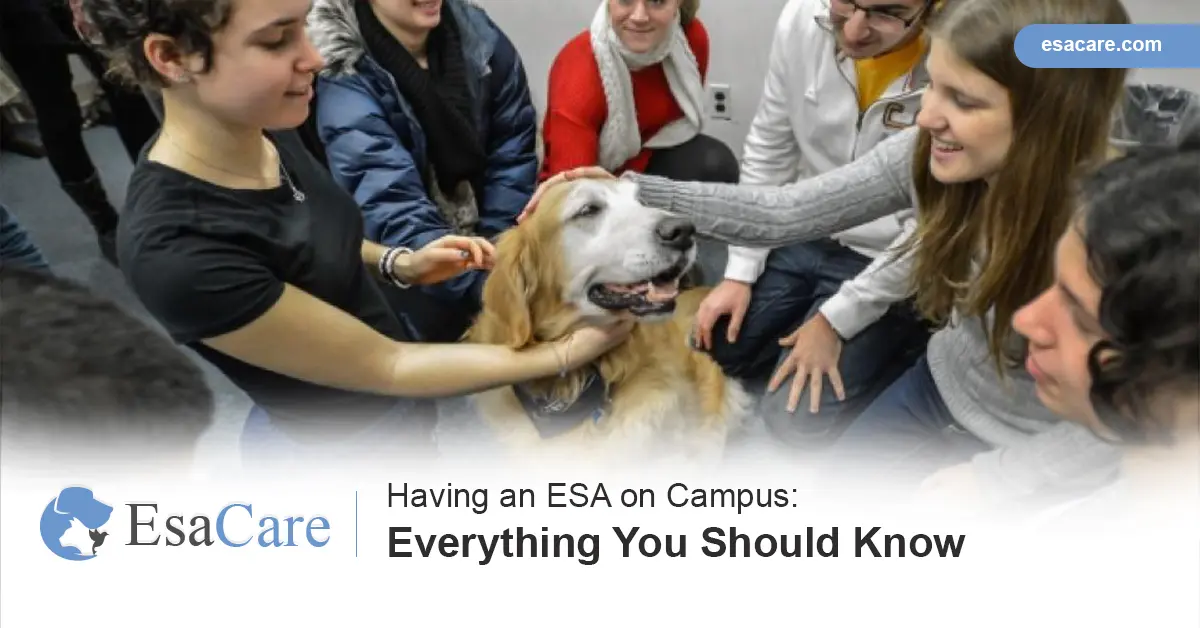 College can be a challenging time for any young adult. Students not only have to cope with a new social environment but also meet the expectations of their professors, parents, and society. This can take a toll on students, which is why many of them turn to emotional support animals to make it easier for them to adjust to the typically stressful on-campus life. If you want to bring an ESA with you to college, here's what you should know.

Know the Rules at Your College
Although colleges permit students to have ESAs, rules vary from one institution to another. When attending college far away from home and your loved ones, you may find it challenging to fit into the new environment. With an emotional support animal, it will be easier to adjust to the new environment.
Colleges understand this, which is why they permit ESAs. However, understand the rules at your institution before taking an ESA with you to college. It's best to keep in mind that although you will be allowed to live with your ESA, it may not accompany you to public places within the campus, including lecture rooms.
Have the Necessary Documentation
To avoid any issues when walking or living with your emotional support animal on campus, ensure you have all the necessary documentation with you all the time. Most importantly, you must have a valid ESA letter from a mental health practitioner. The letter should state the reasons for needing an ESA and the mental health provider's licensing information.
Some institutions request additional documentation besides the ESA letter. For instance, you might be asked to provide your medical information and details regarding how long you've seen your mental health provider. Indeed, this is intrusive and subjugates your right to privacy. Therefore, you shouldn't allow your school to compel you into filling out every part of an ESA form. To avoid needless stress, it's better to find ESA-friendly colleges.
Living with an ESA On Campus
Typically, college students live in student housing. Therefore, you should prepare to live with your pet on campus. The following tips can make this adjustment easier:
Ensure Your ESA Can Cope With Tiny Living Spaces
Student housing is characterized by limited space. Living with an ESA puts even more pressure on the available space. You're better off living with an animal that won't take up too much space. For instance, cats and smaller dogs are better suited to dorm life than bigger dogs. Also, have a play area for your ESA to keep it active all day, especially when you attend your academic engagements.
Don't let stress get to you – apply for an ESA letter now!

Create Playtime for Your ESA
An emotional support animal can also get bored, especially if it stays indoors for hours without any play. Always create playtime for your ESA since this will keep it active and healthy. Animals need to be socialized and mentally stimulated, and the easiest way to do so is through play. One advantage that dogs have over cats is that they can be taken out for walks and stretches. If you have a cat, you can play with it just before bedtime.
Caring for Your ESA
When living with an ESA in a dorm room, you should take care of it. This includes cleaning its litter cage or box, vacuuming pet fur, and cleaning the animal. Litter boxes should be cleaned daily because the small can spread fast in the typically cramped college dorms/apartments. Although this is a big-time commitment, it's nothing compared to the support and therapeutic benefits that you'll get from your ESA.
Communicate With Your Roommates about Your ESA
If you are living with roommates, you should inform them early about your ESA. Although the Department of Housing outlines that you cannot be denied housing because you own an ESA, your roommates may not be comfortable with this arrangement. Therefore, contact your roommates early to inform them about your situation.
In doing so, those who won't be comfortable with the idea of living with a pet under one roof may seek alternative accommodation. However, this shouldn't be an issue since most college students understand what ESAs are and will go out of their way. Even so, your ESA remains your responsibility.
An Emotional Support Animal is more than a pet – Click the Button Below

Key Takeaways
It's now common to see emotional support animals on campus grounds. Bringing a pet with you to college goes a long way in ensuring that your mental health is well taken care of. If you want to embark on your ESA journey, contact ESA Care to see whether you qualify for a recommendation letter.
Your furry buddy is just a call away, so schedule an online appointment with our mental health practitioners today!