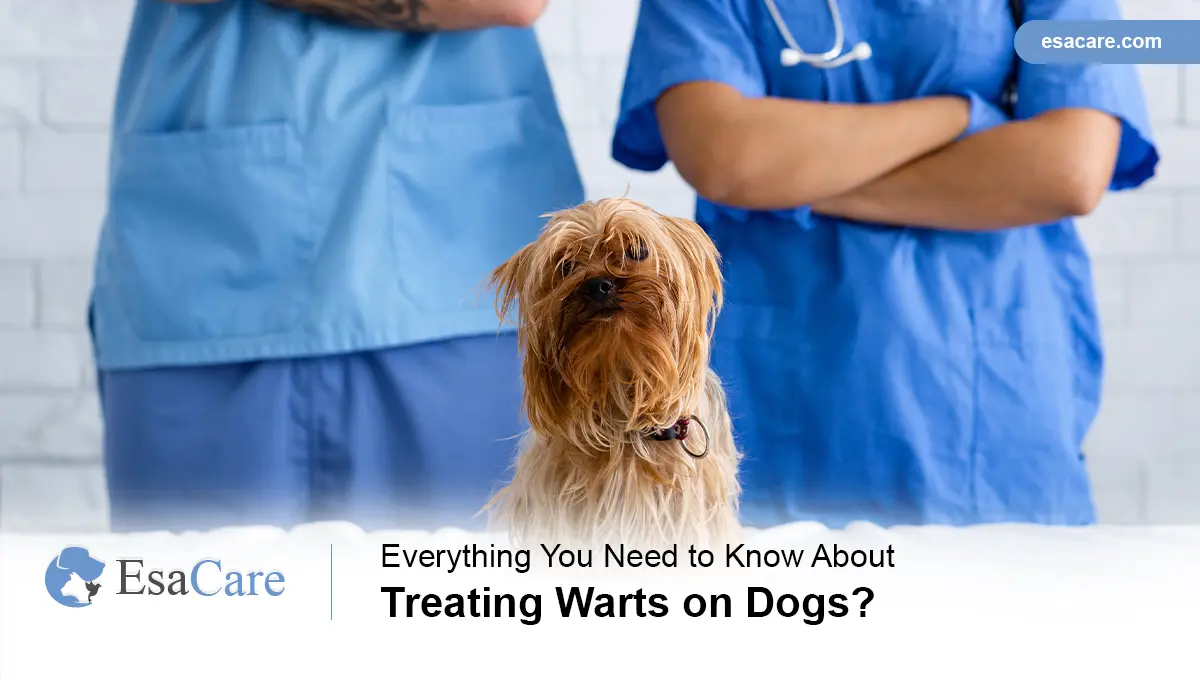 A considerable percentage of dogs have contracted warts at some point in their lives. Mainly, this is because the virus is highly contagious and typically affects dogs of all breeds, ages, and sex. It is essential to mention that the warts virus spreads through direct contact with infected pets. However, it is not uncommon for your pet dog to get infected by mosquitoes or other insect bites. Once infected, a dog sprouts red, raised, or even ragged-looking lumps on the skin that may be scaly and itchy. 
Your ESA Dog can be your best companion – Click the button below!
A dog wart should not be confused with a cancerous tumor. Warts are typically hard, small, and have a rough texture that is easy to see. If your dog's warts contain pus, that's a sign of deeper infection or cancer. Luckily, there are certain things you can do to treat warts on dogs and solve the problem for good. Of course, keep in mind that not all treatment options work on every dog. Still, there is no need to panic since your dog will most likely be back to normal health in no time.
How Do you Treat Warts on Dogs?  
Treating dog warts is never complicated, especially if you are knowledgeable on the subject. Nonetheless, there is no definite answer on how to remove warts on dogs at home. While some methods may prove better than others, most experts agree that the culprit to your dog's problem is an airborne infection spread by insects such as mosquitoes. 
Your dog contracting the warts virus should not be a reason to fret because you can remove them successfully using a variety of different methods.
Below are proven ways on how to treat warts on dogs and give your beloved friend instant relief.
1. Remove Warts Yourself
The first step in treating dog warts is removing them. Given that condition is pretty infectious, there is a higher chance of can spreading further when not removed. Before removing warts on dogs, make sure your hands and fingernails are clean and disinfect any sharp tool like nail cutters. The bottom line is to give your dog eventual relief without causing more infections or further damage to the skin. 
One of the best ways to get rid of dog warts is by using a quick-freezing technique. The good thing is that the method is also safe, even when treating warts on dog eyes. Also, freezing is ideal for small and large portion wart removal. In most cases, your dog may not even feel the freezing procedure done by liquid nitrogen. 
Once frozen, you can remove warts on the dog by simply scratching it away with a clean nail cutter or tweezers and then disinfecting the area with alcohol and soap to avoid relapses.
2. Surgery
Surgery is another effective way of treating warts on the dog's eye and other parts of the body. Unfortunately, this can be too costly and painful for your pet in the long run. Generally, warts get removed from the inside by making a small incision in the infection base and then placing a cartridge sponge over it. 
In some cases, this method proves to be ineffective, especially if there are hundreds of warts on your pet's skin. This is why it is imperative to take them to the vet as soon as you notice the first signs of this virus.
Having strong mental health is the key to a happy life – Maintain it by getting your ESA letter today!
How Do You Get Rid of Warts on Dogs Naturally?
We cannot refute that pet dogs positively impact the lives of their owners, primarily when used as psychiatric aid givers. Based on this information, how to get a psychiatric service dog requires one to settle on a healthy animal, amongst other factors. 
When it comes to treating dog warts, most animal lovers use topical ointments. Nevertheless, you can get the same effect by applying slight pressure to warts with a warm compress. Do this every day until the wart has disappeared completely. 
If your dog is not in pain or is too small for this kind of remedy, it is a good idea to treat them with essential oils. You can accomplish this by placing a few drops of tea tree oil, lavender, or eucalyptus on a soft cloth and wiping warts gently until they clear. 
Have you ever heard how to remove warts on dogs at home using water and vinegar in your endeavor? Using a cotton swab or soft cloth, soak the area with the warm liquid for about five minutes before rinsing the area gently with clean water. You can repeat this process for about three weeks.
Additionally, apply some apple cider vinegar directly on the wart with a cotton swab or soft cloth and leave it in place for five minutes. Then dip a clean piece of cotton into the water and rub warts gently for another few minutes before rinsing with cool water.
The last option to treat warts on dogs involves applying a little bit of Vitamin E oil on the wart. Do this at night before going to bed and then again in the morning. By repeating these simple steps, you should remove warts on dogs within one or two weeks.
Why Do Dogs Get Warts as They Age?
It is prevalent for older dogs to get warts due to viral infections weakened immunity. Even if the condition is typically harmless, your fur pet requires proper treatment to alleviate symptoms of discomfort. 
Canine warts can be passed from dog to dog through direct contact or by being licked by an infected animal that has not yet developed the condition. The immune system naturally detects and kills viruses, but it is also possible for some types of warts to grow in the places previously infected. Dog warts can be benign or malignant. Malignant dog warts tend to look inflamed and raw, so proper removal is advised before turning cancerous. Benign dog warts may also cause problems by causing discomfort during movement but never turn cancerous.
All in all, never give medication to an older dog without the approval of a veterinarian first. Some medicines can cause further complications, and others may be too strong for their aged body system. In most cases, experts recommend owners treat warts on dogs by using topical ointment applications and vitamin supplements to boost the immune system. In severe cases, surgery is necessary to remove the wart or reduce its size.
Can Warts on Dogs Spread to Humans?
Although veterinarians disregard making direct contact with a dog wart, pet owners can contract the virus when petting or accidentally licked by an infected animal. Soon after, human warts develop almost the same time as those on your canine companion.
If a person contacts warts, their immune system will likely detect and destroy the virus. However, some people may be more susceptible to various warts than others. That is why it is crucial for pet owners to always wash their hands after touching a dog wart. 
Keep your ESA pet close – Click the button below!
Final Thoughts
During warts diagnosis, veterinarians usually conduct further testing to rule out an underlying medical condition in a dog. Altogether treatment for infected dogs involves anti-viral medication, external ointments, and home remedies to help to ease the discomfort. If warts on your dogs do not go away with simple treatment at home, a trip to the vet is in order. Most exciting, you do not have to worry about getting a psychiatric service dog anymore. 
Contact qualified therapists at EsCare here and get essential animal tips to getting a valid ESA letter real fast.