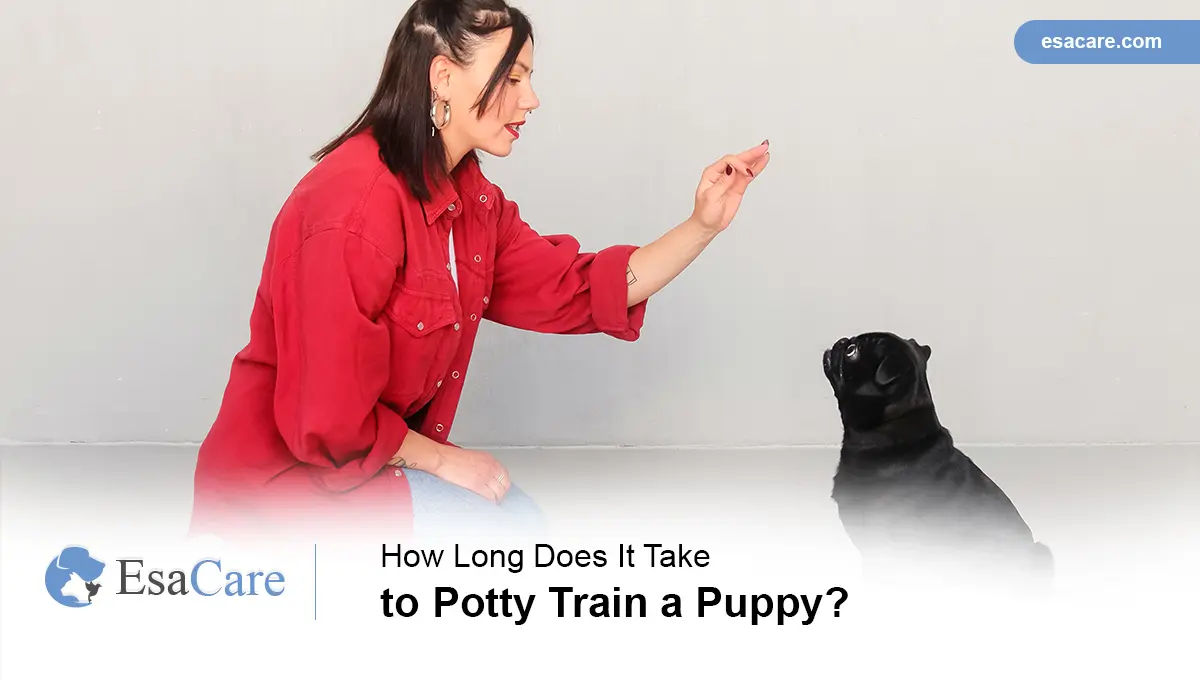 Ever tried searching the web looking for info regarding the period it takes to potty train a puppy? Have to say, there's no definite answer to that concern since it varies from puppy to puppy. It all depends on the differences in cues used to potty train a puppy.
Your ESA Dog can be your best companion – Click the button below!
Let's dig deeper into, how long to potty train a puppy.
How Long to Potty Train a Puppy on Pads
Using potty pads, commonly known as puppy or pee pads, is an excellent approach when you want to train or guide your pup on using a potty. Even so, using these pads can be difficult on a new puppy, especially if you have no idea of what you're doing. How long to potty train a puppy on pads is dependent on some elements.
Here, when training a new pup on pee pads and you're concerned about how long to potty train a puppy, consider the following factors.
1. Introducing the pup to the potty pads
Before we get into the question, how long to potty train a puppy, let's first talk about how you can introduce your pup to the pads like a professional dog potty trainer. The introduction is a key factor when considering comfort. Letting it sniff the pad more often to get used to it will give it a sense of security when it needs a potty break.
Start working on some commands to make it understand where it should take potty breaks. Understand, though, that the command should be simple and only given when standing on the pads.
2. Potty pad choice 
When choosing a pad, ensure you're picking a pad that's easy to clean up. Puppies are generally messy when it comes to where and when they want to take their potty breaks—perhaps because they see any space as a favorable potty area. So, the pad should be big enough to accommodate the potential mess.
3. Be on the lookout for potty
To anticipate when your pup is about to eliminate, you have to keep it close by. For efficiency, consider looking out for the behaviors stated below. 
If your puppy suddenly stops playing with its toy and starts to sniff around the ground. What you need to do is pick the pup and place it on the pad.

Another behavior is the pup's eliminating patterns. Usually, puppies eliminate after drinking, eating, playing, or sleeping. With that in mind, pick the puppy up 15 minutes later—anticipating it'll take its natural potty break.

Some puppies often take potty breaks at an interval of approximately two and a half hours. It would be best to make it a habit of taking the pup to the pad after such a duration.
4. Rewarding your pup 
Rewarding your pup whenever it successfully takes its potty break on the pad is vital in reinforcing conditioned reflex action. The rewards can be in the form of treats such as snacks, praising it in an excited tone, or petting it.
Note that you should not reward your pup before it takes the potty break, especially if the reward is a treat. Because puppies get easily distracted, they might try to reach for the treat before they finish eliminating. As a result, it might cause a mess.
5. Consistency
As you might already know, the conditioned reflex action is the act of instilling and reinforcing a behavioral routine in an animal. Therefore, ensure you maintain a regular schedule in anticipation of your puppy's eliminating time.
Reinforcement of the reflexes comes into play when you place the potty pad in the same location until the pup learns to go on its own volition to the pad for a potty break.
If your main goal is to make the pup eventually take its potty break outside, you can start by moving the pad towards the door. But only do this once it learns to use the pad by itself.
How Long to Potty Train a Puppy In An Apartment
Supposing you're staying in the city with your pup, you might want to consider how to potty train a puppy in an apartment. How long to potty train a puppy is dependent on the puppy. On the other hand, potty training in an apartment can be a challenging experience. Therefore, you might want to consider getting a potty trainer for dogs.
Wondering how long to potty train a puppy? Below are some methods you can adopt for this situation to make the process quick and efficient.
Regular feeding schedule: This technique is essential in anticipating when your pup wants to eliminate. Generally, this is an efficient way to potty train a puppy in an apartment.
Taking the dog outside regularly: Young puppies need to be taken out frequently for about 20 minutes. Leverage this opportunity by ensuring it eliminates outside. Gradually it will start to associate going outside with potty breaks.
Reward: This generally entails snack treats, petting, and praising. Do these things when the puppy takes potty breaks outside to show it that it's good behavior.
Picking a designated eliminating site: Finding a close spot near your apartment is essential in assisting your pup to remember the location it's supposed to take potty breaks.
Use of Command: After setting a designated spot for your puppy, you must associate it with a command. The command would be better reinforced with a sign, i.e., pointing toward the direction of that specific spot.
Having strong mental health is the key to a happy life – Maintain it by getting your ESA letter today!
How to Re Potty Train a Dog
The need to re-potty train a dog stems from a dog's previous experience in potty habits. But those habits often weaken over time. This concern might sometimes be due to a lengthy period in an animal shelter where they may not have had the chance to take potty breaks outdoors.
Here, beginning new potty training sessions for your new dog—with the assumption that it has never been potty trained before is key. Below are some of the tips on how to re potty train a dog:
Monitoring for signs of eliminating: You can do this by using baby gates or a leash (six-foot-long) to keep the dog nearby. Watch for the signs of stopping, such as sniffing around the ground.
Establish a routine: Ensure that you're aware of when the dog might be eliminated by establishing a consistent feeding routine and showing where to eliminate outdoors.
Rewarding the dog: Just as puppies, you can use rewards also on adult dogs too, i.e., petting, praising and giving treats.
Since you will be starting from scratch on the techniques of how to re potty train a dog, you should think of it as a puppy. Chiefly, this is because some of the methods we discussed earlier on how long to potty train a puppy will still apply. In addition, it means that the training period and techniques are similar to training a puppy.
How to Potty Train a Rescue Dog
If you want to know how to potty train a rescues dog, consider adopting the techniques to potty train a puppy or any other typical dog.
There's no difference since, after all, they're all dogs. Just because your rescue dog is a mature dog doesn't mean that it can't be potty trained. Bear in mind that dogs can learn anything, irrespective of their ages. The period it takes to potty train a rescue dog is the same as how long to potty train a puppy.
How to Train a Dog to Use a Toilet 
Let's put the question on, how long to potty train a puppy aside, how wonderful would it be if your dog knew how to use a toilet? Well, you should know that it's possible. With a dog like this, you won't have to worry about cleaning after it. Below are some of the tips on how to train a dog to use a toilet.
Targeting closed toilets and putting a clicker on the dog is important. Ensure you're rewarding it for every successful lid opening.

Give a command indicating to the dog that it should relieve itself once it is sitting on the toilet.

When starting, consider using a child's seat until the dog is comfortable balancing on that seat. Remove the seat and replace it with jumping on regular toilet seats.
ESA dog can improve your overall mental health. Click the button below to get your ESA letter.
Final Thoughts
So how long to potty train a puppy? This is primarily dependent on age, breed, and IQ. It's better to potty train a dog when it's a puppy to reinforce conditioned reflex action. In addition, such a move will significantly reduce the workload of cleaning after the pup when it's grown.
Do you have a pup? Or are you concerned about how you can travel with it without restrictions plus avoid unfair airline fees?
Contact Us at ESACare for a valid ESA letter or click the banner below to book your appointment.