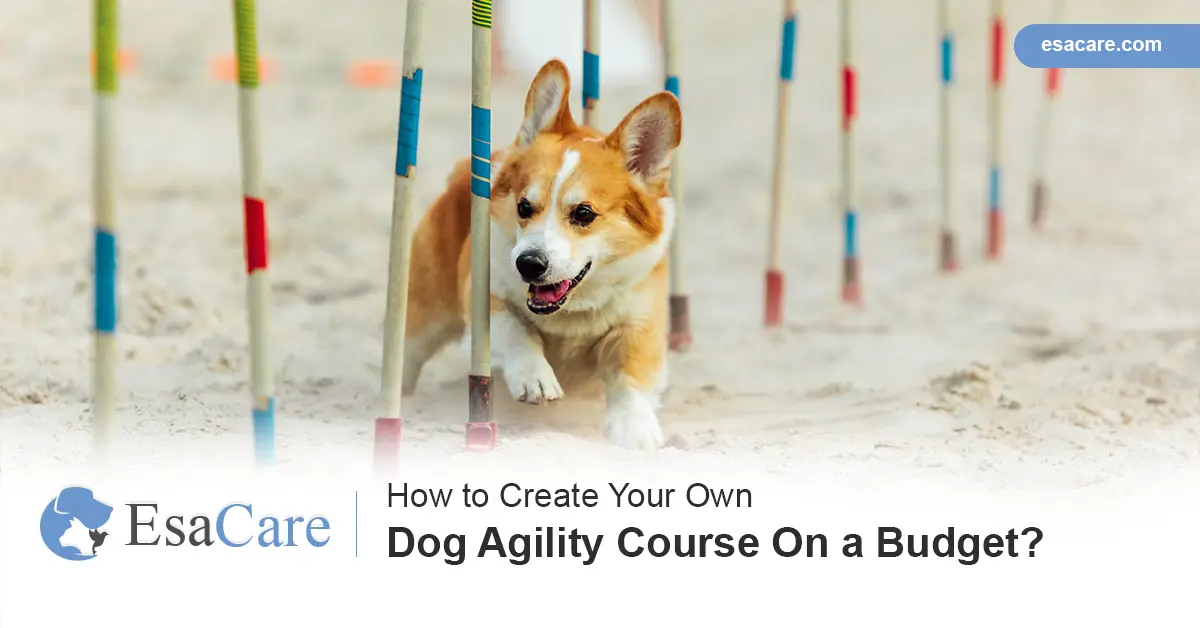 There is more to owning a pup than just bringing it home and giving it food. If you have added a furry member into your house, you must know that it is your responsibility to entertain, train, and keep the new friend healthy. To achieve all three objectives, you need to opt for fun and health-boosting activities such as agility courses.  However, most new dog owners face the challenge of a lack of enough money to acquire the recommended commercial dog agility course equipment for a robust dog agility course design. If you have a dog and are strained budget-wise, you can opt for a DIY dog agility course.
Looking for an ESA Letter for your dog? Click the button below!
Read on to learn a few hacks to creating your dog agility course on a budget.
How Do I Make an Agility Course for My Dog?
How do I make an agility course for my dog is a concern that most new dog owners have. Notably, dog agility courses are ideal for stimulating your dog mentally and physically. Suppose you are looking forward to a dog agility competition, or you want to keep your furry friend healthy. In that case, backyard obstacle courses will be significant in ensuring your dog is not bored, offer it adequate exercise, and building a strong relationship and trust with your new pup. 
Even though having an agility course for your dog is necessary, you don't have to break the bank. Your goal should be to create a safe and fun environment for your dog to train, and this is something you can achieve at home. All you need to do is make use of cheaper items and may include some items you no longer use in your home. 
If you are not sure how to make a dog obstacle course inside, here are three typical obstacles you can consider for your DIY dog agility course:
1. Jumps
Jumps are a must-have for any agility course. However, a lot of care is needed when creating DIY dog agility jumps since they must be safe for your little puppy. 
So, what else should you consider when building jumps for an agility course?
The jump obstacle should include bars that are much flexible and ones that your dog can knock down easily. You do not want to have solid and too strong bars such that they injure him if he does not make to jump over it as required.  
Setting up a jump obstacle doesn't have to be so expensive. You can create an effective jumps obstacle using cheap PV pipes. Ensure that the holders of the bar vary in terms of the increments. This approach allows you to adjust the cups accordingly, depending on your dog's height. 
In case you opt for commercial bar jumps, make sure to watch out for the width and height of the jump. You must ensure that your dog has enough room to pass through the jumps comfortably and with ease. Also, portable and light bars are preferable since you want something that is easy to construct, deconstruct, and easily move around whenever necessary. 
2. Tunnels
Tunnels are a must-have in any complete and successful dog agility course. However, a lot of consideration is needed to create the most beneficial tunnels for your dog?
The first thing to consider is the dog's comfort. Usually, it will be scary for the dog to go through an enclosed and probably dark space, but for the first few instances. So, your goal is to create a tunnel that enhances a positive experience for the dog. For instance, considering the tunnel's space is an essential step towards creating the most appropriate tunnel for your pup's comfort. 
Make sure to leave a wide space to accommodate your dog when passing through. Additionally, the tunnel should be strong; you don't want a case where it collapses when your little friend is inside it. In case that happens, you will have a lot of trouble convincing him or her to go through the tunnel again.  
Setting up a DIY dog agility tunnel is easy. Nevertheless., most people prefer repurposing their children's existing play tunnels. Such an approach is less time-consuming, more comfortable, and above all, inexpensive. 
If you don't want to go through the trouble of creating a tunnel from scratch and you have a child's play tunnel, you can use it in the meantime. If you don't have one, you can get it cheaply from any furniture outlet near you. However, make sure to go for a lightweight tunnel that is easy to carry, but it should also be heavy enough to remain in position when your dog passes through it.
Your ESA Dog can be your best companion. Click the button below to get your ESA letter.
3. Weave Poles
Your dog's agility course can never be complete without weave poles. Creating the most efficient weave poles for an agility course requires careful consideration, especially on your choice of materials. Do not go for too immovable and rigid materials, as these can injure the dog whenever he miscalculates the poles' distance. 
The safety and comfort of your dog are paramount during an agility course. So, the weave poles ought to be portable to allow for ease of adjustment whenever needed. Additionally, securing the poles well is necessary to ensure that they do not fall while your dog is running through them. 
Use PVC pipes and stick them lengthwise to create weave poles. Ensure that the poles are spaced well to allow the dog to run through or walk across them more comfortably and safely. In case you are not comfortable with PVC pipes, you may opt for orange traffic cones but keep them spaced enough.
It is worth noting that the traffic cones are a bit bulky, but they work correctly if you are engaging in a casual dog draining. If you are training your dog for an agility sport, make sure to go for the large orange cones, as these offer the dogs the challenge needed to succeed when in a real agility competition.
How Much Is Agility Training for Dogs?
The cost of agility training doesn't differ much from the regular obedience training cost. Usually, an agility course has around six sessions, which will cost you anything from $125 to $200. However, the cost might increase depending on the training frequency and the level of agility competition.
The cost may also be dependent on the company or individual offering the training, the equipment being used, and the breed or age of the dog. 
Can You Make Money Doing Dog Agility?
Dog agility is becoming very popular by the day. If you want to make any money from dog agility, you must be ready to invest in traveling, practicing, and training your dog. While dog agility competition comes with a prize, most people do it out of passion. At times, the effort, commitment, and money put into the training process might not match the prize money. 
You started training your dog on agility, you have perfected the art, and now wondering whether you can make money doing dog agility? The answer isn't a straight yes. Besides getting the monetary benefits that may come from the competition, you enjoy other benefits too. 
Why Does Your Dog Need an Agility Course?
A dog agility course offers your furry friend numerous benefits, including:
Helps the Dog Exercise Often: Just like human beings, dogs require frequent exercise to remain healthy. Agility courses involve a lot of running past different obstacles, offering them the chance to exercise as they participate in the sport. During such courses, the dogs' muscle groups are in use, which gives them a full-body workout. Besides dog exercising, you also get the chance to engage in a bit of exercise too as you lead your furry friend through the obstacles. 
Mental Stimulation: The dog agility courses involve a lot of obstacles. As your dog learns to negotiate the obstacles, its brain hums, preventing boredom, giving your dog various emotional benefits, and overly ensuring it is happy and healthy.
Enhance Your Dog's Obedience: Your puppy or adult dog will show minimal obedience during the initial stages of the agility course, but after much practice, its obedience becomes sharper.  
Bond Well with Your Dog: Most activities you engage alongside your dog will

strengthen your bond

. Agility courses are more beneficial in achieving this because it involves you working closely with your new friend. 
Dog Agility Course: Safety Tips
Notably, you can create a dog agility course on a budget. However, given that you are not using state-of-art equipment, it is advisable to consider your dog's safety. So, how do you achieve dog agility course safety?
Before breaking out any tools and start setting up the obstacles, go over the following safety tips carefully:
Avoid obstacles that have sharp and rough edges that might injure your furry friend

The entire training area should be clean and leveled to ensure that the dog does not stumble and fall

Set up the obstacles according to the size of your dog

Get guidance and advice from your vet because agility trials aren't meant for all dogs
ESA dog can improve your overall mental health. Click the button below to get your ESA letter.
Final Thoughts
There you have it – a comprehensive guide on how to make a dog agility course out of household items and affordably. Given that dog agility involves a lot of traveling, you will need to get the necessary certificate for your furry friend. 
Get in touch with EsaCare for the necessary certification to allow you to live and move with your dog freely whenever necessary. The process is straightforward – apply online by filling a health questionnaire, opt for your preferred plan, make the payment, get in touch with a licensed physician and get your ESA letter.
Contact Us at ESACare for a valid ESA letter or click the banner below to book your appointment.