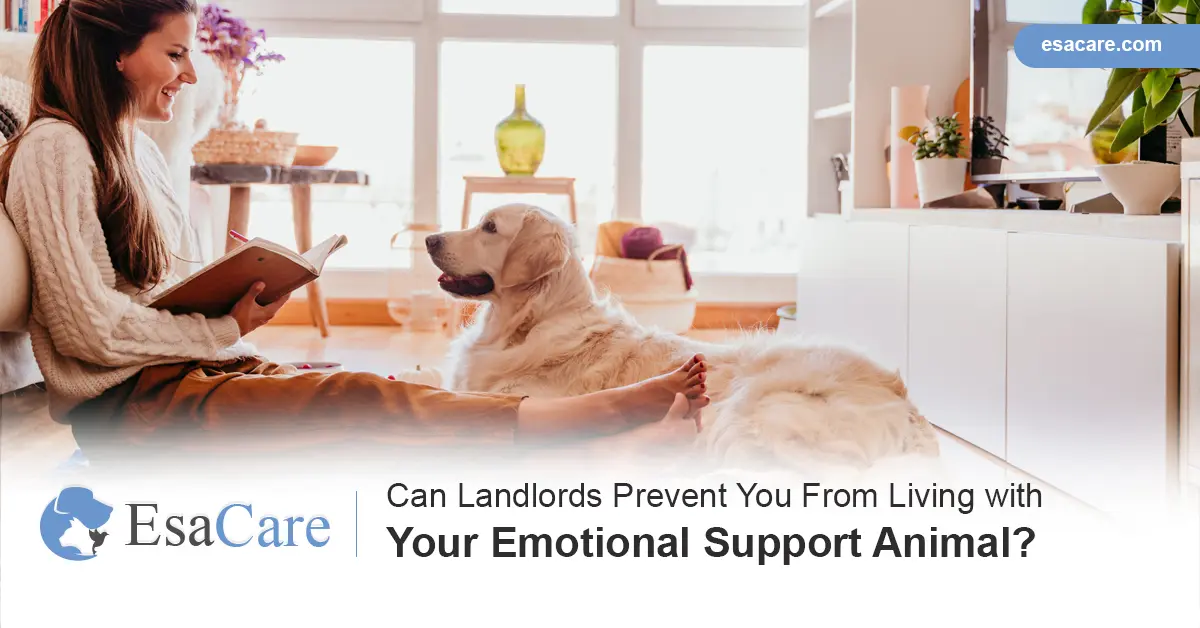 It is common nowadays to find landlords with a strict 'no pet policy' for their tenants. Often, that is because of issues like noise disruption and potential property damages that are associated with pets. 
However, there are some instances when you may be allowed to keep a pet in a 'no pet' rental. According to the Americans with Disability Act (ADA), a disabled person can live with a pet that provides comfort to him or her in a 'no pet' environment. Such a pet is called an emotional support animal (ESA).
It is easy to get an emotional support animal. Click on the button below.
You should note, however, that you need to provide an ESA letter before a landlord can accept your emotional support animal. But still, a landlord is not compelled to accept it. 
Let's look at situations that may make the landlord accept or reject your ESA. 
When Can the Landlord Accept My ESA?
Let's start by understanding what an emotional support animal is and who can get it.
An emotional support animal (ESA) is a pet that offers comfort to a physically or mentally disabled person. For example, a dog may guide a blind or provide companionship to a PTSD (post-traumatic stress disorder) person. As a result, such a dog may qualify as an ESA. 
You should note, however, that even cats, fish or birds can be emotional support animals. Hence, it's not just dogs. 
But, what circumstances can convince your landlord to accept your ESA? Here are the main ones:
You have an ESA letter – A certified mental therapist provides the letter, and it shows that you qualify to have an ESA at home. 

The animal is pivotal in your everyday living, and that denial of acceptance may have adverse effects on your life. 

You have complied with all housing requirements.

The pet is gentle and well taken care of.
When Can the Landlord Reject My ESA?
As mentioned, the landlord is not obligated to accept your ESA, especially when you fail to meet the requirements above. 
Legally, a landlord can reject your ESA if:
The ESA is extra big for the accommodation space

 – For instance, you may be denied acceptance for a horse or any other large animal in a small rental unit. 

The animal is disruptive

 – If your pet is a source of danger to other tenants or property, the landlord may reject it. 

The rental property has four or fewer units,

 and the property owner happens to live in one of them.

You fail to meet the landlord's qualifying standards

 – For example, some landlords may require you to earn at least double your rent before you can get an ESA.

Your ESA letter is expired

 – Like most legal documents, an ESA letter has an expiry date. So, ensure you renew yours early. 
How Do You Get An ESA Letter?
You should know that there are fake and non-certified ESA letters out there. So, you have to choose who you approach carefully. 
By choosing Esacare.com, you have a legit ESA letter facilitator who saves you the stress and money of applying for this (ESA) valuable document. 
Generally, here are the critical steps to getting your ESA online on Esacare.com.
Visit Esacare.com

 to fill a health questionnaire about your animal friend.

Select a plan that suits your pet and then schedule an appointment with a certified mental health therapist.

Have a video chat with the therapist to understand your obligations about the ESA.

Once you meet all requirements, wait to receive your ESA letter. 

 
You can get your emotional support animal by clicking on the button below.
What Else Should You Know About Your ESA? – Your Tenant's Rights
Generally, it is essential to know the following if you are planning to have an ESA in a rental space:
Can landlords evict you for wanting to get an ESA? 
The answer is no. If they do, then they would have violated the Fair Housing Act (FHA) regulations. 
What you should do, however, before bringing an emotional support animal home, is to apply for its letter. It's when the landlord accepts the letter that you can bring your animal friend to the rental space. 
What if the landlord rejects the ESA even after providing the letter? 
It would help if you asked the landlord to explain the reason in writing. You'll then write back, explaining that you have met all the ESA requirements and that you have a certified letter to show for it. 
You can also include in your writing your plans for filing a HUD (Housing and Urban Development) complaint based on ESA discrimination. 
The chances are that the landlord will accept your ESA upon realizing that he has no legal reason to reject your ESA and that a lawsuit is imminent. 
Closing Thought
As discussed, landlords can prevent you from living with your emotional support animal, more so when you don't have a letter for it. So, ensure you get a certified ESA letter, and you can do it on Esacare.com.
Schedule an appointment on Esacare.com today to apply for a certified ESA letter!