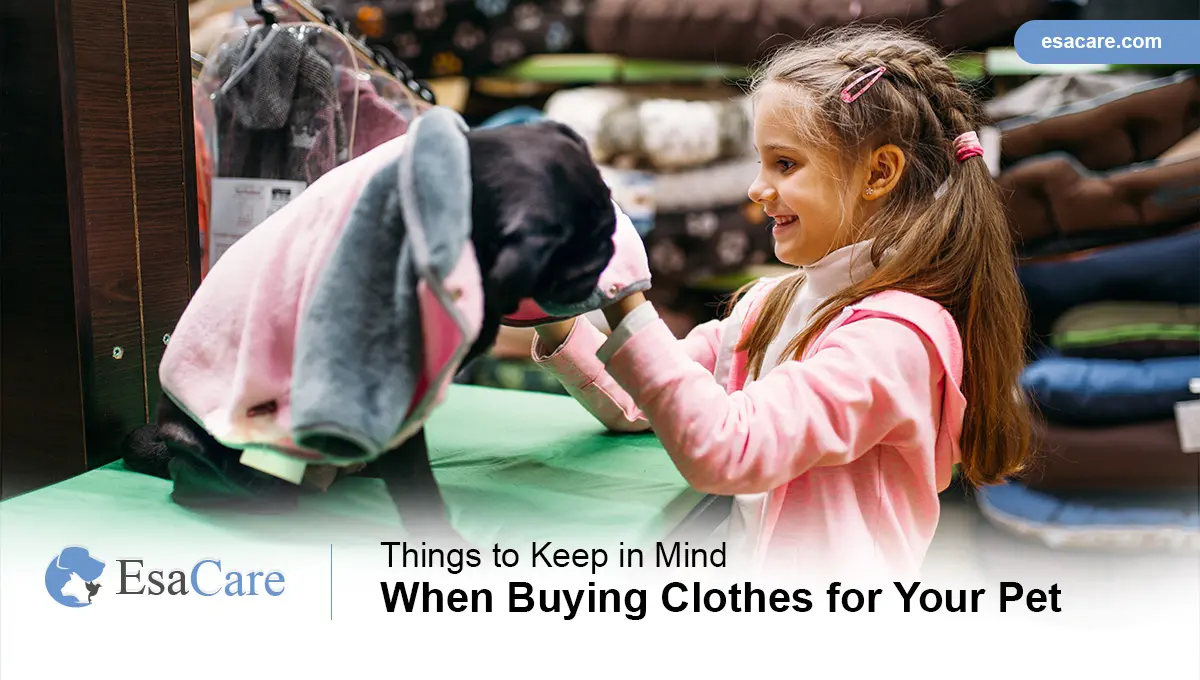 When intending to buy clothes, specific guidelines ensure that the buyer purchases the suitable garment for themselves. Similarly, there are particular things to keep in mind when purchasing pet clothes. Naturally, these guidelines differ from one pet to another depending on age, size, pet types, and many other factors.
Don't wait anymore – Get your ESA letter in a few easy steps!
This article enlightens the readers on some essential guidelines before buying clothes for your pets. Some of the main areas of focus include pet clothes for dogs, pet clothes for small dogs, pet clothes for cats, and oversized dog coats for winter.
This article aims at ensuring that by the time the reader completes reading it, they should understand the right kind of clothes for their dogs, the type of clothes for various pets, and the pets that should not wear clothes. 
What Things Should You Keep in Mind when Buying Clothes for Your Pet?
Finding suitable pet clothes is relatively easy, with various pet clothes available online. However, numerous factors to consider, some of which are listed below.
Fabric quality: 

When embarking on a mission to purchase 

pet clothes for dogs

, 

you should ensure that the fabric is mainly cotton, fleece, blends, or knits. These are long-lasting and will give comfort to the dog.

Sizing and dimension: 

Like 

pet clothes for cats, pet clothes for dogs

 come in various sizes. It is vital to buy the right size, ensuring it is neither tight nor loose. Loose clothes make dogs trip and fall easily, while tight ones make the pets quite uncomfortable. 

They must be comfortable enough: 

Another factor to consider is the garments an individual selects are comfortable enough. They should be easily put on and removed. They should not curb the pets from movement. They should enable them to perform their bodily functions without hindrances. 

Consider the clothes utility: 

When buying pet clothes, it is vital to consider various weather conditions on which the dog will put the clothes. T-shirts and scarves are ideal for warm weather, while jerseys and sweaters are ideal for cold weather. When purchasing rainy coats, ensure they have a reflective strap that should help easier spotting of the pet in the dark. 

Safety: 

It is crucial to remember pets are like babies and require extra safety measures. Therefore, when buying clothes for the pet, it is essential to avoid buying clothes with bows, zips, and buttons. The pets can easily rip them off. 
They risk choking the dogs since they tend to swallow such items. So instead, it is important to buy clothes with Velcro which are easy to fasten. 
How to Choose the Right Dog Clothes for Your Pup (Small Dogs)
Depending on the weather, people often wonder over the question, "How do I choose the right clothes for my dog?" especially when it is a small dog. In this part, we focus on a few things to consider or things to keep in mind when buying clothes for your pet (pup).
1. Type of dog clothes: The type of dog clothes that one buys depends on the kind of dog and its purpose. Some small dogs have a problem keeping warm on their own. Buying hoodies and dog coats for winter for the dogs will benefit them greatly. 
2. Proper fit for the small dogs: While purchasing clothes for the dogs is easy, finding pet clothes for small dogs may require a little more effort. You should find fitting garments that do not go past the waist to avoid soiling them. 
3. Design, aesthetics, and comfort: The clothes you choose should have a design that suits your preference when selecting pet clothes for small dogs. However, the design should be comfortable enough for the small dog to use them without harming themselves.
It is easy to get your hands on an ESA letter. Get yours now by clicking the button below.
The Best Large Dog Coats for Winter
We shift our focus to large dog coats for winter on this excerpt. Which are the best large dog coats for winter in the market?
1. Summit Puffer Dog Coat
These coats are usually a mix of activewear and retroversion. They are super-adjustable, made with a patented Elasto-fit® technology that enhances easy fitting and stretchable comfort. It has an overall rating of 9.5/10
2. Ruffwear Vert Jacket
This jacket falls in large dog coats for winter because it is windproof, waterproof, and breathable. Moreover, it helps the dog cope with winter conditions. It contains cozy fleece lining that helps warm the dog when playing.
3. Alpine All-Weather Coats
These large dog coats for winter help the dogs remain warm and dry during various weather conditions. Typically, waterproof, rugged outer polyester has been used to make them. They have outer layers containing extra fiber that help to keep the dog warm. In addition, they have adjustable straps, D-ring access holes, fur-lined collars, and reflective night safety straps. 
4. Alpine Extreme Weather Puffer Coat
These coats are also suitable for all weather types. They are made with a waterproof exterior lined with thick fleece and warm fiber insulation. There are various sizes to cater to both large and small dogs. 
There are other top-notch large dog coats for winter that someone can select from that include but are not limited to: 
Ruffwear Overcoat Fuse (Rugged harness/coat combination)

GF Pet Urban Parka – Sherpa Lined, Water-resistant Shell

Ruffwear Powder Hound Dog Winter Coat

Ruffwear Cloud Chaser Dog Coat

Ruffwear Quinzee Dog Coat
Pet Clothes for Cats: Buying Clothes for Your Cat Pet
Are pet clothes for cats essential? 
Unlike the human beings who have no fur or sufficient hair covering the body, the cats have adequate. This aspect has led to the belief that cats do not need clothes covering. However, cats can benefit significantly from clothes by protecting them from cold and harsh weather conditions like humans. The dress also gives cats a cute appearance. 
Typically, not all cats have the same amount of fur on their bodies. Therefore, such breeds need consideration when weighing between buying and restraining clothes for the cat. In addition, some breeds of cats like Abyssinian, Bengal, and American/British Shorthair cats need additional protection from cold during the cold season. 
Other breeds do not need clothes like the long-haired breeds (Norwegian Forest Cats, Siamese, and the Persian cat). However, cat clothes are also crucial in protecting cats with skin conditions from fleas and harsh weather conditions.  
Among the factors to consider when buying pet clothes for cats include over-heating, tailor-made, and the breed of the cat.
Pet Clothes for Cats: Things to Consider before Dressing up Your Cat
After acquiring the pet clothes for cats, it is essential to note the following before dressing the cat.
Understand the cat's mood: 

There are moments when the cats are uncomfortable wearing any apparel. It is essential to gently stroke the cat to enhance positive emotions during such moments before putting the clothes on it. 

Begin with the cat's head first: 

You must remember to begin by pushing the cat's head into the dress and then pausing for some time before continuing. Also, ensure that the dress does not get stuck around the neck. Afterward, gently push the paws and the legs.

Reward the cat: 

After completing clothes, ensure to reward the cat. This will be important in fostering the cat to be patient when dressing it.

                                   
Stay mentally fit with your ESA pet! – Click the button below.
Reasons Why Pets Should not Wear Clothes
When buying pet clothes for your dogs and cats, it is vital to remember any reason that may be significant enough to warrant restraining from putting clothes on the pet.
The following are some of the reasons to consider: 
Some pets get stressed when in clothes

Some pets cannot communicate efficiently with other pets with their clothes on

Sometimes dressing the pets up interferes with their movement and comfort. 
Bottom Line
It is recommendable to have a thorough knowledge of things to keep in mind when buying clothes for your pet before purchasing any garments. If you would like to know more about pet comfort, visit ESACare for more information.
Get your Emotional Support Animal Letter today by booking an appointment at ESACare.