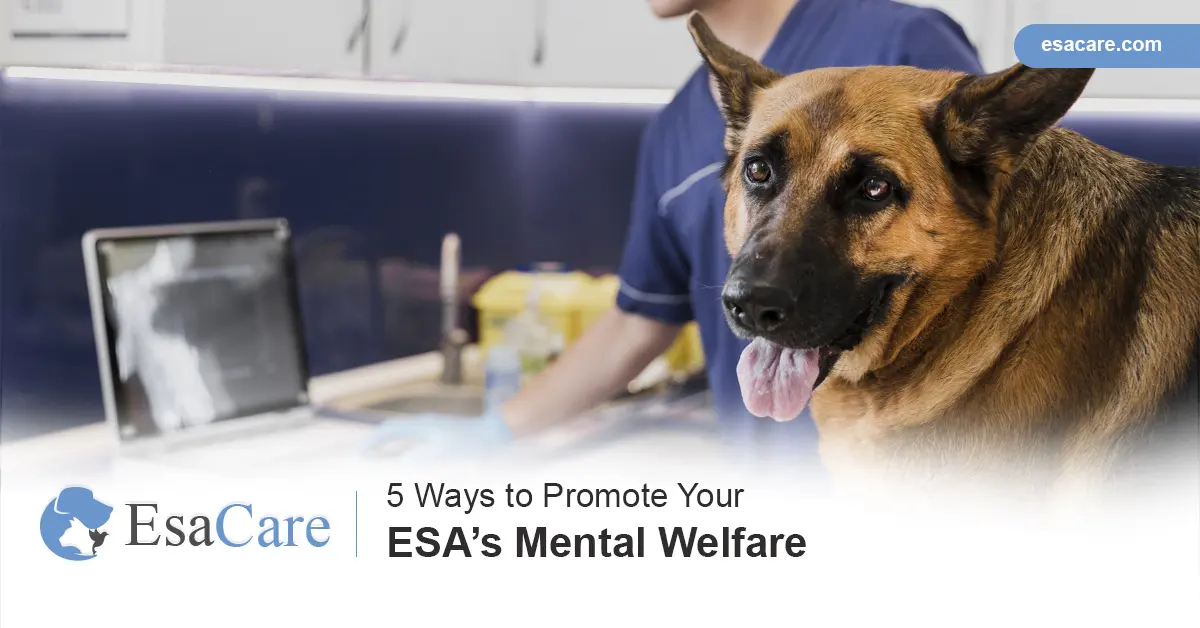 Emotional support animals (ESAs) do so much to help with your mental and emotional wellbeing. To be able to keep doing all this requires that your ESA also be in the best shape. Your ESA's welfare is your responsibility, which is only fair so that your human-ESA relationship is mutually beneficial.
Get an authentic ESA letter by clicking the button below!

Ensuring that your ESA is well-fed and adequately groomed covers the physical aspect of your ESA's wellbeing. Regular visits to the vet for check-ups and timely treatment of any conditions also fall in this category.
Then there is your ESA's mental health. This is one area you cannot afford to miss the mark on, and some helpful pointers on how to promote your ESA's mental welfare include the following
1. Set Up Well
Make your home a place where your ESA feels safe and comfortable, even in your absence. 
Setting up a comfortable place for your ESA to sleep will significantly boost their mental wellbeing. It doesn't matter if you are setting up their bed near yours or elsewhere, as long as the beddings are comfortable and the area is at the right temperature.
Similarly, ensure that you have enough space for your ESA to move around comfortably, and even play. You can even leave a whole room just for your ESA to make their own and play around in when they can. Restricted movement and feeling caged in all the time tends to be a downer for most animals.
You can get some toys for your ESA to play with while you are away. Aside from the apparent benefits, playing with toys will keep your ESA occupied, which helps avoid destructive behavior that is common when they get bored.
2. Pay Attention
Animals thrive on attention. Spend time with your ESA, and give it your full attention. You can be sure that your ESA loves the hugs and the kisses, so don't hold back on the physical expressions of love. Roll around in bed or on the floor with your non-human companion and make them feel special.
Spend more time with your ESA Pet – Click the Button Below.

Not sure what works for your ESA? It shouldn't take you too long to find out. Try it all, and keep what your ESA likes as you do away with what they don't seem to like.
3. Go Out for Some Fresh Air and Exercise
Just like you, your ESA does get tired of being cooped up indoors. This is why you may notice your animal getting all restless and fidgety after a while. Spending some time outdoors is the perfect remedy for this.
You'll see a massive difference once you hit the outdoors. The fresh air and the exercise they get from just walking and running around have a significant impact on the mental health of ESAs. You may have left the house with a grumpy animal, but rest assure that you will be going back with one that is refreshed and smiling from ear to ear.
With exercise, you can always create a schedule and bring in a professional trainer. Apart from the training, the trainer can also help to teach your ESA some helpful commands as well as behavior reinforcement. You can have your ESA trained once or twice a week.
4. Give Positive Reinforcement
Just like you, your ESA feels great when praised. It helps to boost their mental health and will only serve to reinforce good behavior.
Ensure that you take every opportunity that presents itself to praise your ESA. Give a treat and pet it as you repeat positive affirmations. Even when your ESA is in the wrong, such as those times when they defecate in the wrong spot, be careful not to yell or mete out a harsh punishment. Instead, correct your animal nicely but firmly, and you won't have to worry about the same mistake happening again in the future.
6. Time Off
Your ESA also needs some downtime. Too much activity and stress can put a strain on your animal's mental health, and that is why your ESA must get enough rest. Be sensitive enough to read your animal's body language when it is pointing not just to physical fatigue, but mental.
Never Feel Alone! Live with your ESA Pet!

If you have been relying on your ESA a lot for a couple of days when you were having an episode or feeling down, allow your animal to rest when things look up for you. Let your ESA have some downtime and as much as you can, pamper your animal. Keep in mind that a well-rested ESA is a happy animal whose mental health will be at its best.
Support for ESA
An ESA whose mental health is neglected will certainly not be able to fulfill its duties of providing mental and emotional support. Care should always be two-way. As you go about getting your ESA letter, keep in mind that you will be responsible for your ESA's physical and mental welfare.